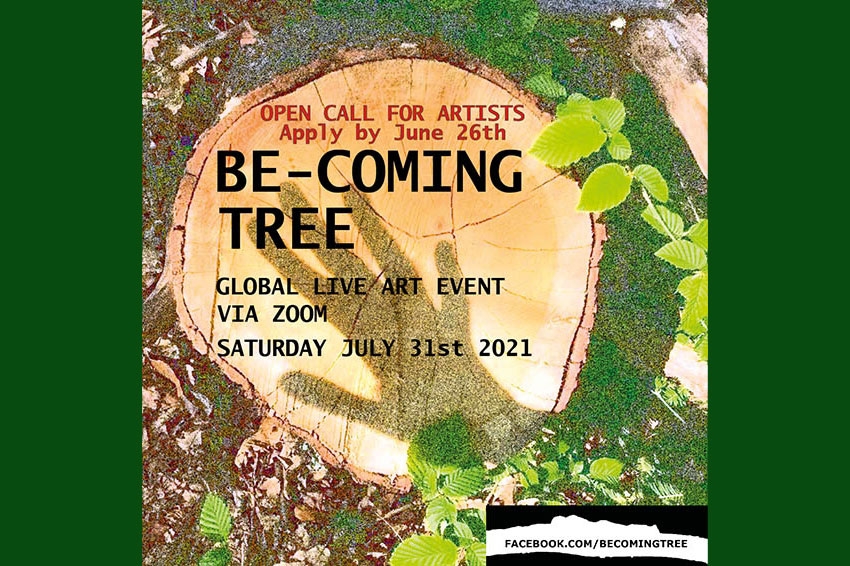 OPEN CALL FOR LIVE ARTISTS - 5th Be-coming Tree Global Live Art event (31.7.21) - Apply by June 26th, 2021
Email Friend
Add to Favorites
Report Listing
Event History
This will be our 5th Global Be-coming Tree event via Zoom. Our first 4 collective Live Art events included 71 artists from 32 countries and 6 continents.
What Makes this event different?
Tickets include rainforest tree donations, making this entanglement of barefoot digital technology and nature a collective eco-art action to support reforestation and solidarity.
> WHAT?
Be-coming tree is seeking artists to participate in a collective Be-coming Tree performance, live streamed via Zoom. This is a live event creating a network of artists simultaneously engaging with their local trees and woodlands across the globe (in accordance with any local pandemic restrictions). We seek durational work which must last fully for one hour and may involve any activity: action, stillness, dance, ritual or whatever the artist feels will express the ethos of Be-coming Tree. The initiative grows kinship with more- than-human forms of life by a heartfelt, collective and connective action of ecoentanglement with nature.
We seek work that takes place safely outside, in nature. In your proposal we expect you to consider other challenges of outdoor durational work such as weather, wifi access, and sufficiently charged streaming devices. Please be as light-hearted as you like, feel free to have some fun!
We cannot accept work that involves the use of individual sound as Be-coming Tree emphasises equality of presence on the screen. If your initial idea includes sound or speech please re-work before submitting.
We require all participants to attend an obligatory tech rehearsal to deal with any issues with live streaming before the event. When filming outside and away from wi-fi access it is usually good practice to live stream using a smartphone with a good cellular network availability. So take this into account.
After the event an edited video recording of the performance will be made available to artists. It will be recorded in 'gallery view' so that artists in groups of 12 are visible on the screen at the same time. Please note any individual documentation of your work is your responsibility, so plan ahead.
> WHEN?
Tech rehearsal: Sat July 24th 2021 for one hour. Exact time to be confirmed.
Live Performance: Sat July 31st 2021 between 10:45 - 15.30 CEST. Exact time to be confirmed.
> HOW?
Live performances with trees will happen simultaneously on a world-wide scale, live-streamed via Zoom. An android or iPhone with full battery, a good cellular-data connection and Zoom app is required.
> GET INVOLVED
Read the instructions above and below carefully. Your live action will need to last without interruptions for 60 min. If you would like to participate in the collective Be-coming Tree event, send ALL the information below in the set format to becomingtree@gmail.com before June 26th, 2021 at 24:00 CEST.
● Name & Surname of Artist or Group Name
● Title and Brief description of your proposed action - 50 words max. Note: if you are included in the event, this will be used in promo materials.
● A photo relating to your proposed action for the same purpose.
● The geographical location of your action - area and country (not GPS map)
● One Link to your website or social media account
> TERMS
Please note that the Be-coming Tree collective performance will be published under a Creative Commons Attribution License (CC BY), which allows for unrestricted use and distribution, even commercial, as long as attribution is given to the creator of the content. See 
https://creativecommons.org/licenses/by/4.0/
.
All participating artists will receive a digital copy of a short gallery-view video of the collective Be coming Tree performance. No artist fees available. Participating in the project means the artists agree with the terms. More info about Be-coming Tree at 
http://becomingtree.live/
 or 
https://www.facebook.com/becomingtree
.