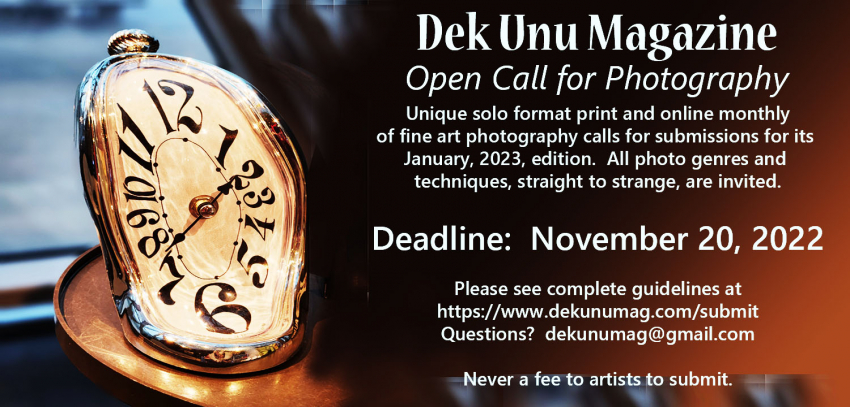 Add to Favorites
Report Listing
What Makes this event different?
Dek Unu Magazine seeks submissions of accomplished, adventurous fine art photography for its October 2022 edition. Dek Unu publishes monthly online and in print and each month's jury's selection is based on creativity, narrative support, and technical quality – without regard to photo genre, technique, artist's pedigree, or career stage. Each solo-format issue features 11 images, themed and curated by only one artist, the artist's image commentaries, and an in-depth interview. Dek Unu is not-for-profit, non-advertising, and there is never a fee to submit. For the complete story, to see the current issue, to submit, and to like / subscribe, please visit the website: https://www.dekunumag.com. Questions? Please email dekunumag [at] gmail [dot] com. Each edition is extensively promoted via email, web, and social media. Please review the guidelines: www.dekunumag.com/submit.
Image Usage Rights
Artists retain rights to images.
Images are included in a separately copyrighted magazine distributed online and in print and archived for possible future use in promoting the magazine and the artist.