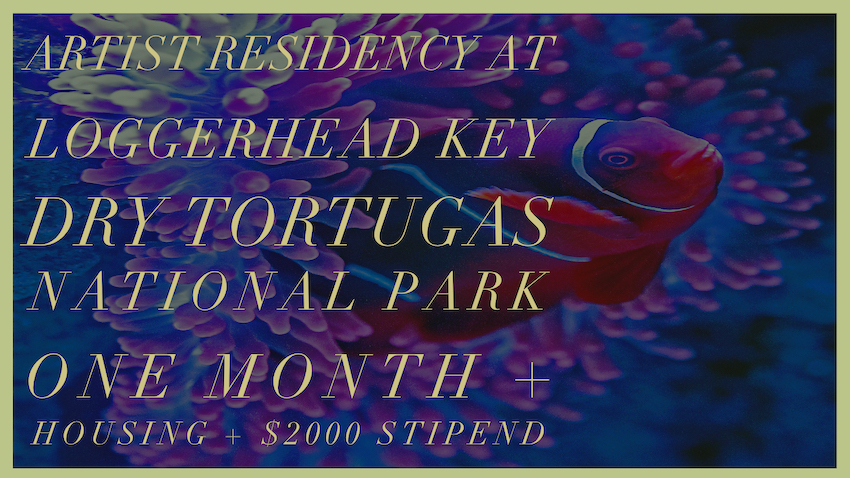 Add to Favorites
Report Listing
What Makes this event different?
This is an opportunity to take part in a long-standing Arts Residency at a unique and mostly uninhabited Key in a National Park. This is a Unique Location and Experience for Artists!
Image Usage Rights
Winners will allow their work to be used in promotion of the NPAF programs. The Artist retains copyright of all work, with the exception of any work optionally donated though NPAF to the National Park Service collection.
Call for entry for artists for a Unique Residency
2022 DRY TORTUGAS NATIONAL PARK
"A Lighthouse in the Keys"
Number of Residencies: 1x in September
Wonderful experience! Our artists (there need to be two persons at a minimum, only one needs to be an artist though, no loners, sadly) will spend a month virtually alone in a lighthouse on an islet with all sorts of tropical flora and fauna, which includes the endangered Loggerhead turtle nesting grounds. This residency is only accessible by boat or by sea plane. This call to artists is open to all artists, writers musicians or performance artists.

Residency Overview:
$2,000 stipend
Housing in a large historic lighthouse on Loggerhead Key, an islet in the Florida Keys. Artists must pack in all supplies, equipment and food, and have a satellite phone or at minimum a SPOT type satellite beacon.  
Venue for Artist Presentation
Final Submission Deadline: November 30th, 2021
Location: Loggerhead Key (https://en.wikipedia.org/wiki/Loggerhead_Key) is the largest island of the Dry Tortugas. Covering about 49 acres, it is the site of the Loggerhead lighthouse, constructed in 1857. It was also formerly the location of the "Tortugas Laboratory", built and operated by the Carnegie Research Institute, for tropical research, from 1904 until 1939. Accessible only by boat or seaplane, the key is known for its picturesque blue waters, Loggerhead turtles, superlative coral reefs and marine life, and the vast assortment of bird life that frequent the area.
For more information please visit the Event Website.