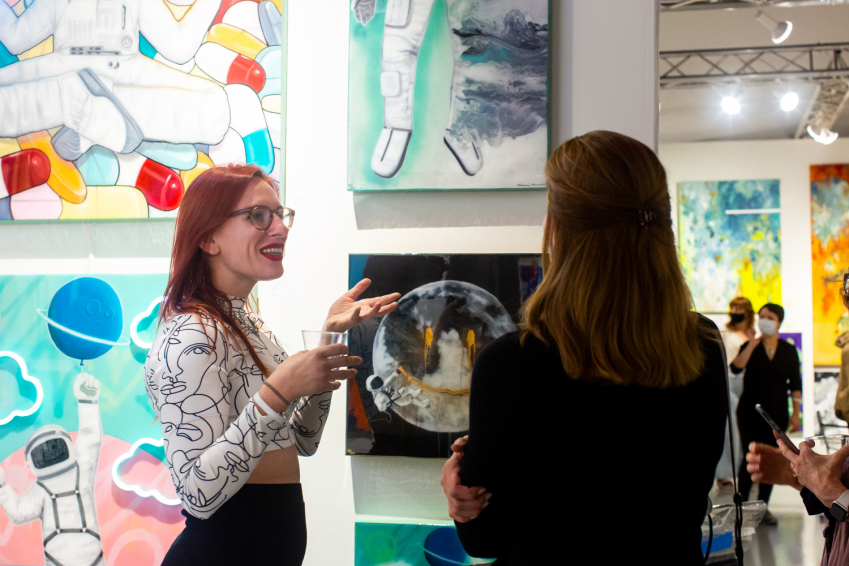 Email Friend
Add to Favorites
Report Listing
Event History
Be a part of Superfine history in our first ever fair in Savannah! Since 2015, Superfine has hosted contemporary art fairs across the United States in Miami Beach, New York City, San Francisco, Los Angeles, Washington DC, and Seattle.
Call for Entry For Artists
"Superfine has been a life-changing experience that accelerated my career and created so many new relationships with artists, collectors, curators, galleries and journalists that I still benefit from to this day." – Sean Christopher Ward | Superfine SF, NY, DC
The most widespread and largest artist-driven art fair is coming to Savannah, GA for the first time from March 30th to April 2nd, 2023. The fair will take place at the historic Clyde Venue in downtown Savannah. Forty-six top emerging artists will be selected to exhibit at this weekend long event!
Since 2015, Superfine Art Fair has been showing artists from around the world how to sell their art at our art fairs in New York City, Washington DC, Miami Beach, Los Angeles, San Francisco, and Seattle. Now we are bringing that expertise to America's Hostess City.
Be a part of Superfine history, exhibit in Savannah
As a member of the Superfamily, you will be spoiled by personalized expert advice, insider tips, and continuous marketing support. At the art fair, you'll experience real-world buyer responses from pre-qualified buyers with high purchase intent and disposable income that can inform you about how to shift your business plans and make long-lasting connections with clients and fellow artists.
Learn More About the Superfine Method
Superfine takes no commission on any artwork sold. Make art. Sell art. We do the rest.
"The energy was great and as soon as the first piece sold on Saturday morning it snowballed into more sales. People would watch as one client would buy their piece and then jump in to purchase their own piece. We had a wonderful experience with the other artists and galleries, as well, who would send people our direction if they thought they would like the work. There was a wonderful sense of camaraderie among Superfine participants." - Lauren Donovan, Superfine Exhibitor
Join us at The Clyde Venue in downtown Savannah from March 30th to April 2nd for a weekend of selling art, meeting new collectors, and enjoying the best art fair experience of your life. 
Only 46 spots available!
To learn more or to appy for this call for entry for artists, please visit the Event Website or click to Apply.