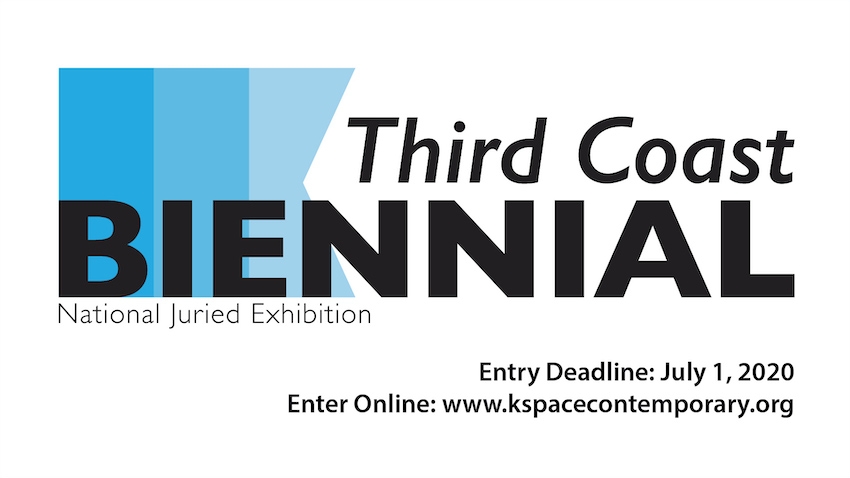 Email Friend
Add to Favorites
Report Listing
Event History
K Space Contemporary is a 501c3 non-profit organization that is dedicated to the promotion of contemporary art in Corpus Christi, TX. Third Coast National was established in 2007. For its first ten years (2007 to 2016), Third Coast National was an annual exhibition. It is now a biennial exhibition held in the even-numbered years. The Third Coast National competition averages 180-200 entrants who submit up to 650 works. 15-20% of the artists who enter are accepted. The number of pieces selected for exhibit ranges between 50 to 65 works of art. Past Third Coast National jurors include: artists Trenton Doyle Hancock, Sharon Kopriva, Tony Magar, Ray Smith, Mark "Scrapdaddy" Bradford, Andy Coolquitt and Josh MacPhee, Glasstire writer Christina Reese, Art Museum of South Texas Curator Deborah Fullerton, TAMUCC Art Department Chair Rich Gere, Del Mar College Art Department Chair Ken Rosier, Ballroom Marfa Co-founder and Executive Director Fairfax Dorn and Curator of Modern and Contemporary Art at San Antonio Museum of Art, Suzanne Weaver.
What Makes this event different?
Third Coast National is the only biennial exhibition of its kind the Texas Coastal Bend. The exhibition brings artwork from across the USA to the Texas Coast and introduces our community to innovative artists from all over the nation.
Copyright Policy
Artists may select whether or not their work may be used in publicity for the exhibition. Artists maintain copyright of all works selected for the exhibition. Artists are credited whenever possible if their works are used in promotional materials.
Image Usage Rights
Yes.
THIRD COAST NATIONAL BIENNIAL
ENTRY INFORMATION
Artists who are 18+ living and in the USA may enter. Submitted art must be original works completed within the last 2 years. Artworks previously exhibited at KSC or Schaudies Gallery at K Space Art Studios (formerly known as the Hot Spot) are not eligible. Failure to comply with the following submission guidelines may disqualify your entry. The entry fee is non-refundable.
Size Limitation: Two-dimensional works must not exceed 5 feet either direction.  Three-dimensional works (and shipping crates) must fit through a 36"x 83" doorway. Sculpture must be manageable by two people.
Format: Works are juried from digital images submitted online. Artists may submit one image for each 2D work of art and two images for each 3D work of art.
Sales: All works must be For Sale. KSC collects payment and retains 40% commission. INCLUDE GALLERY COMMISSION when pricing your work. Price & label information that you type into the online entry form is the label info that will be displayed with your work.
Entry Fee (non-refundable): $40/non-members ($35/members) for 1 to 3 works of art. Each additional entry is $5. Enter online through our website. The Entry fee can be paid via PayPal or by mailing a check or money order payable to K Space Contemporary. Paying with PayPal through the online system automatically completes your submission.
Notice: Notice of acceptance or denial will be posted on www.kspacecontemporary.org and emailed to the entrant's address included in their online application/Entrything form. To update your email address, click MY PROFILE.
Once selected, artists will ship/deliver their work to K Space Contemporary for the exhibition. Artists may select whether or not their work may be used in publicity for the exhibition. Some Images (that have been approved for publicity by their author) will be used for promotional purposes: on the postcard announcement, marquee banner in gallery window, press releases, and in social media posts. Artists retain copyright and are credited whenever possible.
Shipping: All shipping costs and liability for damage are the responsibility of the artist. (See complete Shipping instructions in the online prospectus at https://tinyurl.com/yx3wa448.)
Label: Each accepted work must arrive with proper labeling (name, email address and phone number, title, media, date, retail price) securely attached to the back of frame or bottom of sculpture.
Framing Requirements:  2-D works must be properly prepared for exhibition with wire securely attached. Shipped works requiring glazing must use Plexi-glass or equivalent. Only white, off-white or black mats are acceptable. We prefer that drawings and prints be framed for protection; however, we will exhibit works on paper using magnets or clips. Unframed paintings must be painted around the edges in solid black, white or grey or with continued image. 
Selected Works: KSC reserves the right to reject works not represented accurately in the image and description in the entry form.  KSC may refuse works that arrive damaged, are poorly constructed or poorly presented (dirty mats, warped canvases, etc.).
2020 CALENDAR:
July 1: Entry Deadline
July 31: Artists Notified by email
August 12-15, 19-21, 11 am to 5 pm: Receiving Hand-Delivered works
August 21: Shipped works due (Works must arrive between August 12 and August 21)
Sept. 4, 5:30 - 9 pm: Exhibition Opening with CC ArtWalk
Oct. 2: Closing reception with ArtWalk
Oct. 3, Oct. 7-10, 11am to 5 pm: Pick Up Hand-Delivered works
Oct. 5: Begin returning shipped works