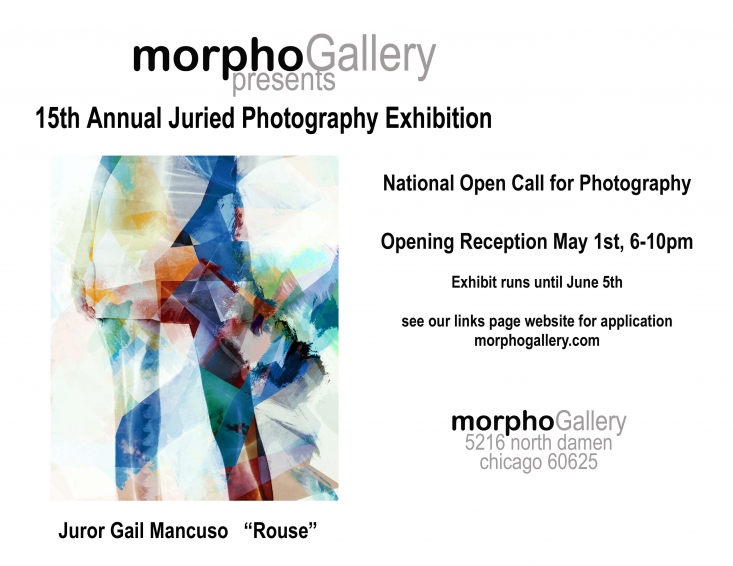 Email Friend
Add to Favorites
Report Listing
Event History
15 years we have been exhibiting local and national artists. Each year we have a local Chicago Juror. We encourage all different methods and content in photography. Equal opportunity gallery and inclusive space.
Copyright Policy
Copyright policy is included in the submission link.
Image Usage Rights
Copyright policy is included in the submission link.
15th Annual Juried Photography Exhibition
Morpho Gallery, 5216 N. Damen, Chicago, IL 60625
Dates: May 1st through June 4th, 2020
Entry Deadline: April 18th
Opening Reception: May 1st, 6pm - 10pm
About the Exhibition:
Morpho Gallery is pleased to announce its 13th annual juried photo exhibit. Photographers are invited to submit work for possible inclusion in the exhibition. Size limitation is 36" maximum in any direction, framing included.  Original photography only, any and all subject matters and photo processes welcomed.
About the Juror:
Award-winning artist/photographer Gail Mancuso, utilizes materials uncommon to traditional photography, including paint, torn papers, glass and fabric, along with digital imaging techniques, to subtly blur the boundary between photography and painterly impressions. Gail has received international recognition as the recipient of numerous photography awards and has shown her work in both solo and group exhibitions in the US and worldwide, including galleries in Chicago, New York, Venice, Paris, and Tokyo. Her work can be found in restaurants, hotels and corporate environments and her limited-edition works are held in private collections throughout the US, UK and Italy
The complete application is available to download at:
http://morphogallery.com/links.htm
Exhibition calendar:
April 18th Final Entry Deadline
April 20-21st Notifications sent
April 30th     Artwork received
May 1st     Opening night reception
Winner(s) announced
May 1st- June 4th            Exhibition dates
June 5th-7th              Pick ups
APPLICATION PROCESS
Entry fee:
$25 for three (3) images, $5 for each additional image, limited to five per person. The fee is non-refundable.
Submissions Details:
Judging will be done from on-line .jpg images, submitted with the completed entry form and entry fee paid through Paypal (see details below). The official entry form can be downloaded at www.morphogallery.com/links.htm (on the links page). Entries will also be accepted by mail on CD, accompanied with the entry form and check, mailed to Morpho Gallery, 5216 N. Damen, Chicago, IL 60625.
Email jpeg images and entry form as attachments to morphogallery@gmail.com, and specify 13th Annual Juried Photography 2018 in the subject line.