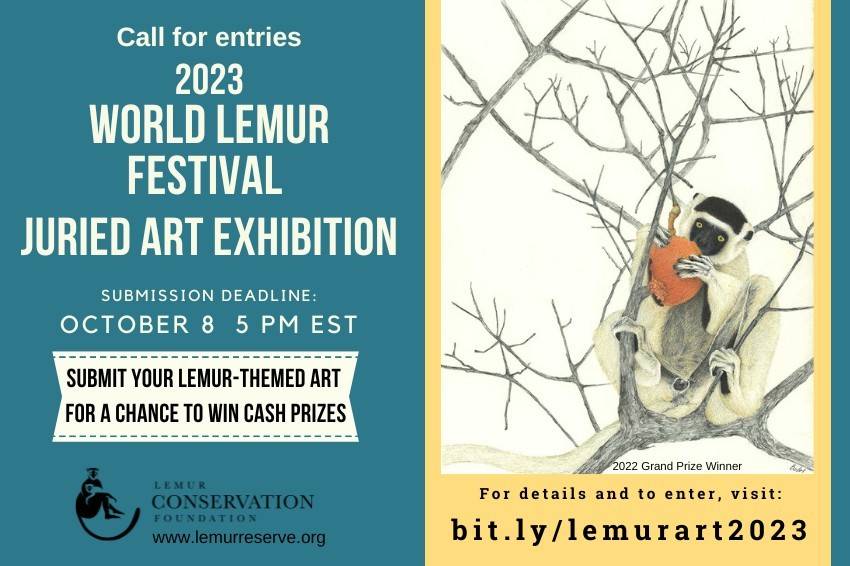 Add to Favorites
Report Listing
Event History
Now in its 6th year, the Lemur Conservation Foundation's exhibition spotlights artists who use their talents to raise awareness for lemurs and lemur conservation, inspiring action to protect these primates and their fragile habitats. The exhibition will be showcased digitally on the Foundation's website and social media platforms starting Oct. 23. Artists must upload photos of their submissions; only the top prize winners will be asked to share their actual artwork for permanent display. This event generates worldwide interest in the artists and lemur conservation.
What Makes this event different?
This is the only lemur-themed juried art contest that we know of! Each submission fosters awareness of the critical plight of lemurs and the rainforests. There are more than 110 lemur species and about 98% of those are threatened with extinction! The artists' creations move and inspire viewers to care more deeply about endangered species and the world we all share. This event attracts artists from around the world and features a wide array of visual art mediums, including painting, drawing, photography, sculpture, printmaking, and decorative arts.
Call for Entry for Artists Working in all Mediums
Images of your original 2D and 3D art will be showcased in a digital exhibition. All artworks will be accepted for consideration. The jury will choose a portion of entries for the online exhibition on our website and social media platforms. Only the top two winning artworks (as determined by the jury) will be required to ship their original art to LCF's Myakka City reserve in Florida, United States. Submissions may be used (with permission) in promotional materials and in organization publications.
For more information about this opportunity for artists, please visit the Event Website.
For a submission forms and detailed information, visit bit.ly/lemurart2023