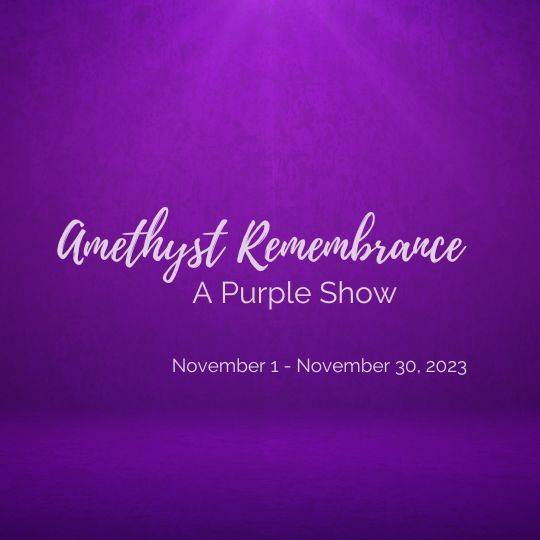 Add to Favorites
Report Listing
What Makes this event different?
We believe in art that does good. 20% of exhibit proceeds benefit the Alzheimer's Association of Western NY during National Alzheimer's Disease Awareness Month.
Copyright Policy
Artist retains copyright ownership of all submitted works.
Call for Entries: Amethyst Remembrance: A Purple Show
Awards: Best in Show (Cash Prize), Awards of Distinction, Artists' Choice, People's Choice Awards
Purple is connected with luxury, creativity, and royalty. Emily Dickinson admired the "amethyst remembrance," and we agree! The versatility of purple is unrivaled, making it a unique and fascinating color that can bring complexity and grandeur to any piece of artwork.
Share your artistic interpretation of this captivating color in our purple-themed show. We welcome all styles, mediums, and subjects. As November marks National Alzheimer's Disease Awareness Month, this exhibit will donate 20% of the proceeds to the Alzheimer's Association of Western NY.
A cash prize will be awarded for Best in Show. Submissions will be judged based on technical skill, creativity, innovation, and adherence to the theme.
For just $30, you may submit up to three entries, making it an affordable and accessible way to showcase your work and increase your visibility. Take advantage of this opportunity and submit your artwork today!
Deadline For Submissions: October 15, 2023
Show Dates: November 1 – November 30, 2023
Eligibility: International artists age 16+
Mediums: All styles and mediums welcome

Entry Fee: $30 for up to 3 entries; maximum 3 entries
Charitable Contributions: 20% of proceeds benefit The Alzheimer's Association of Western NY
For more information about this call for entries, please visit the Event Website.