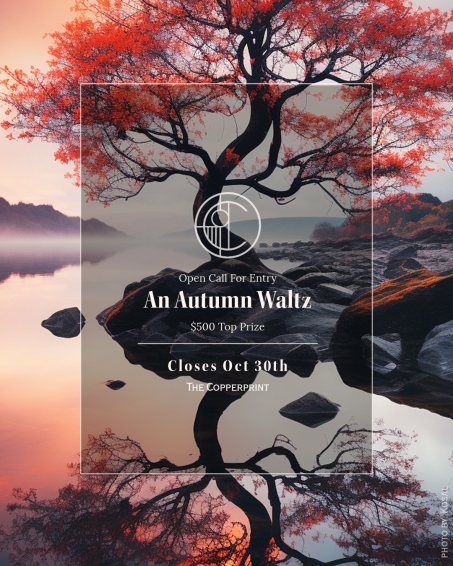 Print
Email Friend
Add to Favorites
Report Listing
What Makes this event different?
The real benefit of using The Copperprint for exhibits is that it allows for a broad reach to potential buyers. With Copperprint's extensive influence in the art world, exhibits & featured artists' pages hosted online and at our brick-and-mortar gallery (currently under renovation), can be seen by collectors, interior designers, and tourists from around the world. This is crucial for those who are looking to gain exposure and make connections within their chosen field. To further ensure that potential buyers find the gallery, exhibits, and most importantly, individual advertisements for our featured artists; The Copperprint uses paid, international promotions directed at professional interior designers, collectors, and other galleries using ads in Instagram, Pinterest, Facebook, LinkedIn, and Google, giving all potential customers a direct and accessible view of the gallery's offerings.
Copyright Policy
All artist rights retained and DMCA protected.
Image Usage Rights
Selected images will be posted on The Copperprint website, social media outlets and magizene publications.
International juried call-for-entry titled, "An Autumn Waltz"
The changing seasons are a source of inspiration for artists around the world. The crisp air, shifting hues, and unique opportunities that autumn and winter bring make for captivating subjects in the world of photography. To celebrate the beauty of this transitory period, an international juried call-for-entry has been extended to photographers of all backgrounds and skill levels. 
Titled "An Autumn Waltz," this call for entry seeks to showcase the nuances of nature and the diverse perspectives that visual storytellers bring to their craft. We welcome all positions, cultural backgrounds, genders, and ages, encouraging a truly inclusive and representative exhibition. Whether you are an experienced professional or an emerging talent, this call-for-entry is an opportunity to have your work recognized and appreciated on an international stage.
The esteemed guest juror for this event is Chris Byrne, a highly acclaimed photographer known for his breathtaking landscape work. Having received numerous awards, including the Epson Pano award and International Photographer of the Year, Byrne brings a wealth of knowledge and expertise to the judging process. His discerning eye and artistic vision will ensure that only the most exceptional images become part of this exhibition.
To participate in "An Autumn Waltz," interested photographers are required to submit up to five images. Whether in color or black and white, these photographs should capture the essence of the autumn and winter seasons. The entry fee for this call-for-entry is $35 US, which allows for the submission of up to five images. If a photographer wishes to submit more images, there is no limit, but each additional submission will require an additional $35 fee.
The rewards for participating in this exhibition are not only creative and artistic but also include cash prizes. The top four winning entrants will have their work promoted through paid advertising, giving them the opportunity to reach a wider audience and gain further recognition for their talent. Additionally, the selected artists will be featured on dedicated artist pages, providing them with a platform to share their artistic journey and connect with fellow photography enthusiasts.
Submission for "An Autumn Waltz" is handled exclusively through The Copperprint website, utilizing the secure payment gateway Stripe. This ensures a seamless and hassle-free process for photographers, allowing them to focus on their craft and the artistic vision they wish to bring to life.
The deadline for entry to "An Autumn Waltz" is October 30th, by which time photographers must have completed their submissions. The jury will then review all entries and notify the selected artists of their acceptance status by November 15th. Finally, the award winners, peer-selected, will be announced on December 30th, marking the exciting conclusion of this international juried call-for-entry.
In conclusion, "An Autumn Waltz" provides a unique opportunity for photographers from around the world to have their work celebrated and recognized by a renowned juror. The invitation is open to visual storytellers of all backgrounds and experience levels, ensuring a rich and diverse collection of artistic expressions. Moreover, the cash prizes and promotional opportunities that accompany this exhibition further enhance the appeal and encourage artists to submit their best work.
So, grab your camera, immerse yourself in the beauty of the autumn and winter seasons, and capture the essence of this fleeting dance. Let "An Autumn Waltz" be the stage where your artistic voice resonates and inspires others, while also giving you the chance to claim your well-deserved place among the top photographers of today.
For more information about this call for entry for photographers, please visit the Event Website.