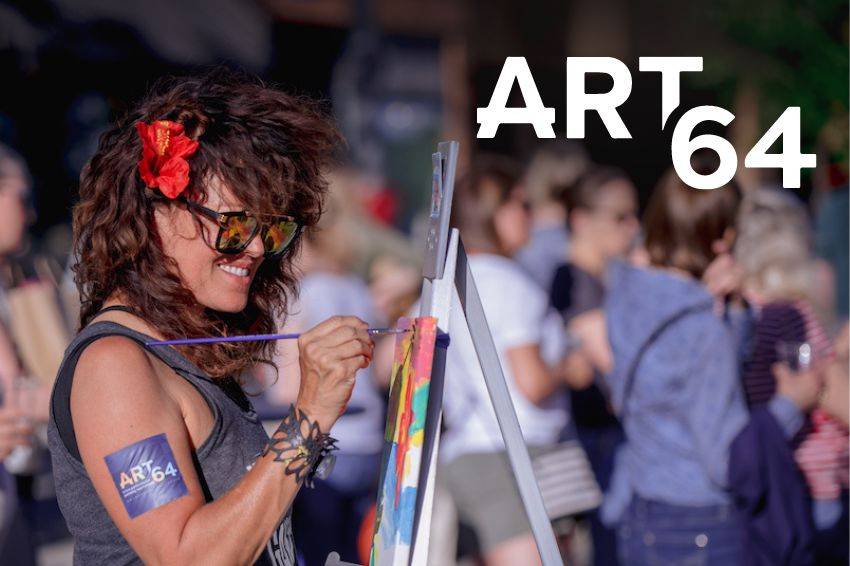 Add to Favorites
Report Listing
Event History
This is the second annual ART 64 event. In 2022, the event saw 64 artists participate and nearly 3,000 attendees. The winner of the first annual ART 64 tournament, and the $20,000 grand prize, in 2022 was watercolor artist Ben Otten. "ART 64 was honestly the best event I've participated in. The caliber of artists was amazing. The Village of Wauwatosa was not only an amazing venue, but the support of the village & their respective vendors was unmatched. The event ran the weekend without a single hiccup, even despite tricky weather conditions. This crew knows exactly what they're doing and how to run the best artist-centered event I've seen." — Ben Otten, 2022 Winner
What Makes this event different?
ART 64 is a two-day bracket-style tournament taking place in The Village of Wauwatosa, highlighting diverse, nationwide artists and local businesses. In four rounds, artists are paired to go head-to-head and given 60 minutes to create a work of art on a predetermined theme on canvas. Members of the public, both in-person and virtually, are invited to watch the paintings come to life and vote for their favorite artists to advance online.
Image Usage Rights
Artist agrees that artist and artwork created during ART 64 can and will be photographed and may be used by the City of Wauwatosa for promotional and other purposes.
Calling All Artists! Live Painting Tournament With $20,000 Grand Prize
ART 64 Painting Tournament Returns June 9-10, 2023
Discover Wauwatosa is excited to announce the second annual ART 64!
We are looking for 64 artists to participate in this 2-day, bracket-style painting tournament with a grand prize of $20,000. The tournament will take place in The Village of Wauwatosa on June 9-10, 2023. 
During the competition, members of the public are invited to attend and watch the paintings come to life and vote for their favorite paintings online. The artist in each bracket that receives the most votes will advance to the next round of the tournament. 
Last year, watercolor artist Ben Otten took home the prize. You can see all the paintings created during last year's tournament here. If you didn't get a chance to participate or attend last year, check out this video to see what it's about.
The application for artists who wish to participate is now available online at Art64Tosa.com. The application is open to artists from across the country, so make sure to share with the artists in your life! All 64 competing artists receive a minimum of $100 for participation, with prize money increasing each round they advance.

The deadline for applications is Friday, March 10, 2023. The selected artists will be notified on March 31, 2023. There is no cost to apply.

For more information on rules, required application materials, and timeline, please visit the ART 64 website.