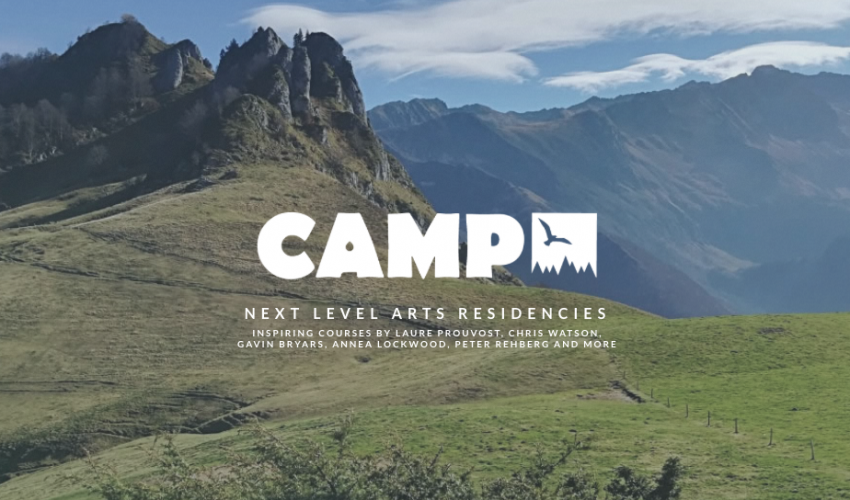 Email Friend
Add to Favorites
Report Listing
Event History
NESTLED IN THE FRENCH PYRENEES AT 750M ALTITUDE, 10KM FROM THE SPANISH BORDER AND SURROUNDED BY SNOWCAPPED PEAKS, WATERFALLS AND FORESTS, IS THE PICTURESQUE THERMAL TOWN OF AULUS-LES-BAINS. IN THE TOWN, HOUSED IN A BEAUTIFULLY RENOVATED 19TH CENTURY HOTEL, IS CAMP - THE FIRST OF A NEW BREED OF ARTS RESIDENCY.CAMP RUNS A SHORT SERIES OF FIVE-DAY ARTS, MUSIC, WRITING AND ARTS-ACTIVIST SESSIONS. THESE ARE NO ORDINARY COURSES - THEY ARE INTENSE, ARTISTIC CATALYSTS RUN BY INTERNATIONALLY ACCLAIMED PRACTITIONERS; CREATIVE FLASHPOINTS DESIGNED TO CHANGE THE LIVES OF EVERYONE INVOLVED. THE COURSES COMBINE WORK IN OUR WELL EQUIPPED FACILITIES WITH PROJECTS CARRIED OUT IN THE MOUNTAINS. CAMP ALSO HOUSES ADVANCED FACILITIES AVAILABLE TO ALL RESIDENTIAL STUDENTS - RECORDING FACILITIES, DIGITAL VIDEO AND PHOTOGRAPHY EDITING SUITES, REHEARSAL AND PERFORMANCE SPACES, FINE ART STUDIOS, A CINEMA, A DARK ROOM AND AN ARTS LIBRARY. ACCOMMODATION IS PROVIDED AT THE CENTRE IN PEACEFUL, PRIVATE ROOMS, AND EXCELLENT CATERING IS INCLUDED. IT'S A PLACE WHERE GREAT ART IS MADE, NEW MOVEMENTS ARE FORMED, NEW IDEAS ARE NURTURED.
What Makes this event different?
Climate change, Trump, Brexit, the rise of the right wing, increasing poverty and the increasingly desperate thrashing of late-stage capitalism - the old debate of the artist as societal mirror or social pioneer is becoming more and more obsolete as the reality becomes clearer - there is no political art, there is no activist art - all art is political, all art is politically active. The only question is - what kind of social statement is the artist making? The production of decorative canvases intended to adorn the walls of the wealthy is an active social statement. The creative hijacking of corporate advertising and communications is another.
Brandalism is an international collective of artists that challenge corporate power in public space around the world. Corporate advertising influences every aspect of our modern lives: from how we feel about ourselves; our bodies; our understandings of gender, race and class; through to our perceptions of others and the world we live in. Building resistance and resilience to corporate power is at the heart of the culture wars in the 21st century so with nothing more than high-vis jackets, special keys, and shared creative principles we create the world's largest ad takeovers that hold corporate power to account. Read more about Brandalism here: http://brandalism.ch/manifesto/
Brandalism will share tactics and approaches that allow diverse artists to hack the city, challenge corporate power, and get away clean. Expect a deep dive into a range of forms of critical public art and the socio-political history of each. We'll explore solo vs collective actions, subversive tactics and more. Brandalism will also provide practical (action-led) trainings, ensuring participants have a range of resources that enable all participants to begin hacking the city where they live.
Adbusters is a global network of artists, activists, writers, musicians, designers, poets, philosophers, and punks trying to pull off a radical transformation of the current world order. Our media foundation publishes a bi-monthly magazine and invents cultural campaigns that explore the erosion of the mental and physical environment by commercial forces.
"To resist evil is the highest achievement of human life." - Chris Hedges
As artists, you hold the power of persuasion and perspective changing. Through visual communication, you influence the way people think, feel, and act. How will you employ your skills for radical good and resist the pull of the corporate consumerist tide? Dayna Mahannah and Maggie McPhee are the campaign and project managers at Adbusters magazine. Their recent campaign, the First Things First Project, zeroes in on the ethics of the design industry and its responsibility to humanity, the economy, and the environment.
Adbusters is keen to express, through this workshop, theoretical and actionable skills inspired by the themes of expectations (and the value of subverting them), non-linear chronology (structural anarchy), and responsibility. Using the FTF Project, as well as historical and contemporary design revolutions, as examples of small scale resistance with huge impacts, you will be accoutred with the knowledge to culture jam any space. Together, we'll examine the effects of design & visual art - both good and bad - and how it exists in and narrates every facet of our lives. Find out more at abillionpeople.org
The Center for Political Beauty (ZPS) is an assault team that establishes moral beauty, political poetry and human greatness while aiming to preserve humanitarianism. The group's basic understanding is that the legacy of the Holocaust is rendered void by political apathy, the rejection of refugees and cowardice. It believes that Germany should not only learn from its History but also take action. For their part in the session, ZPS representatives Gabriela Langholf and Lotta Dorte will work with the group to form new ways to put humanistic ideals into action, looking at the ZPS's past works and intellectual foundations, then taking the results forward to create new concepts and help participants bring their own ideas into action.
Price - €1299 - grants, bursaries and discounts available, see www.campfr.com/funding        
CAMP ALSO HOUSES ADVANCED FACILITIES AVAILABLE TO ALL RESIDENTIAL STUDENTS - RECORDING FACILITIES, DIGITAL VIDEO AND PHOTOGRAPHY EDITING SUITES, REHEARSAL AND PERFORMANCE SPACES, FINE ART STUDIOS, A CINEMA, A DARK ROOM AND AN ARTS LIBRARY. ACCOMMODATION IS PROVIDED AT THE CENTRE IN PEACEFUL, PRIVATE ROOMS, AND EXCELLENT CATERING IS INCLUDED.  POST-COURSE SUPPORT: ONGOING MENTORSHIP, EXHIBITION, PUBLISHING AND INSTALLATION OPPORTUNITIES