The deadline to participate in this event has passed. Find other call for entries and opportunities by browsing this site. Try search for other events in the
Art
»
JURIED EXHIBITIONS
category.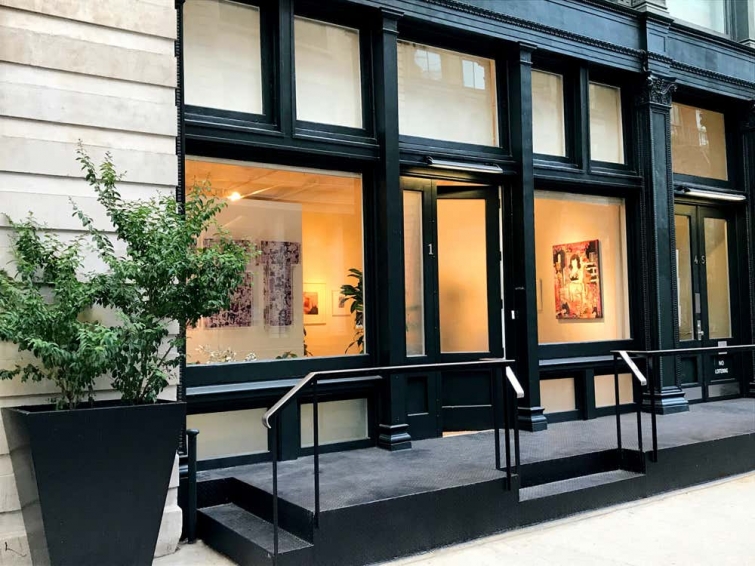 Email Friend
Add to Favorites
Report Listing
BODY BEAUTIFUL
A Group Show // November - December 2019
Submission Deadline: September 30, 2019
Group exhibition, "Body Beautiful," curated by gallery director Indira Cesarine for The Untitled Space gallery, will feature artworks across a variety of mediums including painting, drawing, and sculpture, that highlight the power of the figure with an emphasis on body positive depictions of the human form. Throughout the canon of art history the human figure has been a central theme, as we grapple with our own existence, feeding a desire to self represent and to understand our place in the universe. This exhibition will present works by contemporary artists who address the figure not just as an object of beauty, or a subject of anatomy, but rather elaborate on contemporary themes of body positive depictions of the human form, including all body types, ages and genders, celebrating diversity as well as the timeless beauty of the body.
What is Body Positivity? The body-positive movement, which dates back to early Victorian reforms against the corset, 1960's initiatives against fat-shaming, and more recently via social media with influencers challenging unrealistic standards of beauty, is "rooted in the belief that all human beings should have a positive body image, while challenging the ways in which society presents and views the physical body. The goal of the movement is to address unrealistic beauty standards and to build the confidence of oneself and others. The movement sets forth the notion that beauty is a construct of society, and poses that this construct should not infringe upon one's ability to feel confidence or self-worth. The movement states that neither fat-shaming nor skinny-shaming is acceptable, and that all body types can and should be celebrated."
The "Body Beautiful" exhibition is open to artists of all genders. Works will be considered in any medium, including painting, drawing, sculpture, photography, mixed media, video, and performance amongst others. All works must be created within the last 5 years, with a priority on new, previously unexhibited artworks. Art must be ready to hang or install. Artists may submit up to 5 works of art for consideration, which may include renderings or proposals of works to be created specifically for the exhibition. Maximum size of artworks 84" although for this exhibition smaller works under 40" will be prioritized.
The group show will take place at The Untitled Space gallery in Tribeca, New York, as well as online on Artsy. The exhibit is open to submissions until September 30, 2019.
ABOUT THE UNTITLED SPACE
The Untitled Space is an art gallery located in Tribeca, New York in a landmark building on Lispenard Street. Founded in 2015 by Indira Cesarine, the gallery features an ongoing curation of exhibits of emerging and established contemporary artists exploring conceptual framework and boundary-pushing ideology through mediums of painting, sculpture, printmaking, photography, video and performance art. The gallery is committing to exploring new ideas vis-à-vis traditional and new mediums and highlights a program of women in art as well as special events aligned with our creative vision.
ABOUT CURATOR INDIRA CESARINE
Indira Cesarine's curatorial for The Untitled Space gallery includes includes solo shows for artists Sarah Maple, Rebecca Leveille, Alison Jackson, Fahren Feingold, Kat Toronto aka Miss Meatface, and Jeanette Hayes as well as group shows "IRL: Investigating Reality", "EDEN" and "(HOTEL) XX" at SPRING/BREAK Art Show; "SECRET GARDEN" presenting the female gaze on erotica; "SHE INSPIRES," a group show of 60 artists exhibiting works honoring inspirational women; internationally-celebrated group shows "UPRISE/ANGRY WOMEN," and "ONE YEAR OF RESISTANCE" responding to the political climate in America, as well as numerous other critically-acclaimed exhibitions. She is additionally the founder of globally distributed publication "The Untitled Magazine." Recent press on Indira Cesarine & The Untitled Space includes Vogue (US), Vogue Italia, CNN, Forbes, Newsweek, W Magazine, Harper's Bazaar, Teen Vogue, New York Magazine, i-D Magazine, Dazed and Confused, and The New York Times among many others. View recent articles: http://untitled-space.com/featured-press
MORE INFO + APPLICATION: http://untitled-space.com/artist-opportunities/