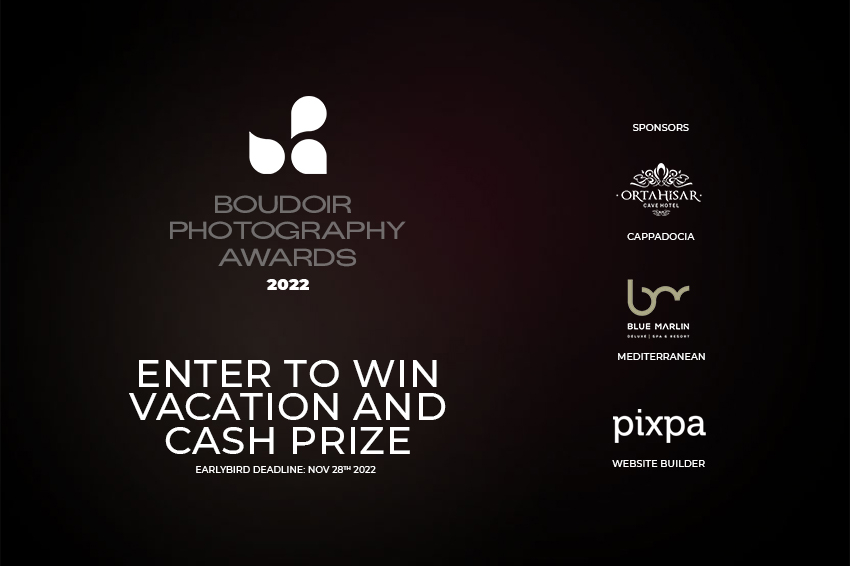 Email Friend
Add to Favorites
Report Listing
Event History
This is the first of our annual contests which will hopefully be organized every year in the future.
What Makes this event different?
We are specialized in Boudoir Photography which is a big trend in recent years.
Image Usage Rights
Copyright and all other rights remain that of the photographer. Any photograph used by Boudoir Inspiration shall carry the photographer's credit line. Use may include publication in any Boudoir Inspiration media sponsor publication. All entrants understand and agree that any image submitted to the competition may be used by Boudoir Inspiration to use for marketing and promotional purposes including in any media such as exhibitions, print and digital media directly related to the Boudoir Inspiration competition. Participants represent and warrant that (1) the Photographs are original and that they own the rights to their Photographs, (2) the Photographs do not violate the rights of any third party, (3) the Photographs do not convey a false or misleading impression, and (4) any additional information they submit about the Photographs is accurate.
Boudoir Inspiration is proud to present the annual Boudoir Photography Awards celebrating the creativity of boudoir photographers from 140+ countries around the world with their sensual and mesmerizing photography.

This is the first of our annual contests which will hopefully be organized every year in the future.

A book in high quality print will be available for sale after the announcement of the winners. The book will consist of winners and shortlisted entries.

You can follow the updates from this URL:
https://www.boudoirinspiration.com/boudoir-photography-awards

PRIZES:

1st Place:
2 nights for 4 in Cappadocia
4 nights for 4 in the Turkish Riviera
$500 cash prize
Special winner badge and certificate
Print copy of the book
Inclusion in the book
Free 1 year Pro Plan on Pixpa
Promoted on Boudoir Inspiration website
Promoted on Boudoir Inspiration social media

2nd Place:
4 nights for 4 in the Turkish Riviera
$300 cash prize
Special 2nd place badge and certificate
Print copy of the book
Inclusion in the book
Free website and 1 year Pro Plan on Pixpa
Promoted on Boudoir Inspiration website
Promoted on Boudoir Inspiration social media

3rd Place:
4 nights for 4 in the Turkish Riviera
$200 cash prize
Special 3rd place badge and certificate
Print copy of the book
Inclusion in the book
Free website and 1 year Pro Plan on Pixpa
Promoted on Boudoir Inspiration website
Promoted on Boudoir Inspiration social media

Shortlist:
Special shortlisted badge
Digital copy of the book
Inclusion in the book
50% off on annual plans & 63% off on 2-yearly plans on Pixpa
Promoted on Boudoir Inspiration website
Promoted on Boudoir Inspiration social media

SPONSORS:
Ortahisar Cave Hotel Cappadocia: https://bit.ly/3wbfMxP
Blue Marlin Deluxe - Spa & Resort: https://bit.ly/3AsIq03
Pixpa Website Builder: https://bit.ly/pixpabpa

JUDGES (sorted by name):
Guillaume Lechat - Photographer: @lechat_fineartnudes
Igor Vorobey - Photographer: @foto_vorobey_foto
Izunia Motyl - Model: @izunia.motyl
Jocelyn Binder - Model: @jocelynbinder
Osman Gökçe - Photographer: @o7.foto
Paolo Lazzarotti - Photographer: @primordial_beauty
Sadie Gray - Model: @sadiegrayheart
Stephanie Bowers - Photographer: @stephaniebowersphotography
Valeria Lariccia - Model: @valerialariccia__
Yuliya Panchenko - Photographer: @ypboudoir

ENTRY FEES:
Early Deadline (November 28, 2022): 1 image: $19.50 (discounts for multiple entries)
Final Deadline (December 28, 2022): 1 image: $24.50 (discounts for multiple entries)

There are no limits in the number of entries however we recommend that you only submit your best ones.

If you have any questions, please feel free to send an email to hello@boudoirinspiration.com