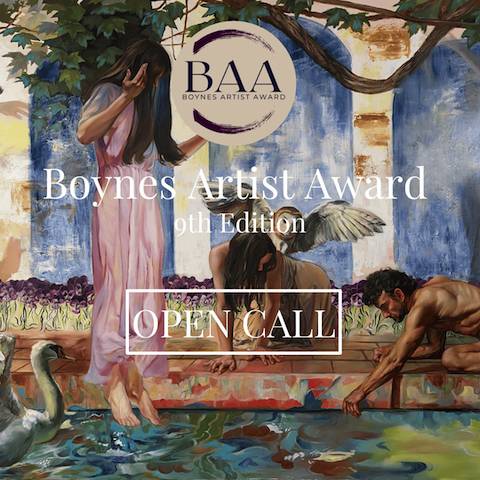 Add to Favorites
Report Listing
Event History
Formerly known as the Boynes Emerging Artist Award (est. 2019), this award has been updated to reflect our commitment to recognizing emerging, mid-career and established artists who demonstrate outstanding artistic talent. With the Boynes Artist Award, we are committed to continuing to provide opportunities for emerging and established artists alike to showcase their creativity and receive the recognition they deserve. Apply for the Boynes Artist Award today and take the first step towards showcasing your creativity and achieving recognition for your talent.
Copyright Policy
Upon submission to the Boynes Artist Award, the artist will retain full copyrights to their work as well as 100% of any sale made as a result of promotion and marketing of the works through the Boynes Artist Award .
Image Usage Rights
Entering this award gives us permission to use your image to promote and market you and your work through the Boynes Artist Award and it's Partners, where you will be credited, on our website, email newsletter and social media. Any questions, concerns or requests to remove in relation to use of artwork can be directed to info@boynesartistaward.com with the email subject line being "Artwork Image Use Query".
Art Competition 2023
Calling artists! The Boynes Artist Award 9th Edition is accepting submissions! This is your chance to showcase your creative work to the world and compete for cash prizes, art supplies, and more.
The Boynes Artist Award is an international art competition that celebrates and supports artists of all levels and backgrounds. With categories for Emerging, Young, and Professional Artists, we welcome submissions from anyone who has a passion for creating art.
If you are an Emerging Artist, in the early stages of your career, you can win $750 cash prize, creation of a professional artist website and a published interview. If you are a Young Artist between 18 - 25 years old, you can win $500 cash prize, $250 in art supplies and a published interview. And if you are a Professional Artist, who has been practicing art for at least three years, you can win $2000 cash prize, a published interview and much more!
Submissions are open from May 1st until July 30th, so don't wait any longer and submit your artwork today. Early bird submissions receive a 20% discount on the entry fee until May 30th.
To enter the Boynes Artist Award 9th Edition, visit our website and follow the instructions. We can't wait to see your artwork and support you in your artistic journey.
For more information about this art competition please visit the Event Website.