The deadline to participate in this event has passed. Find other call for entries and opportunities by browsing this site. Try search for other events in the
Art
»
COMPETITIONS & CONTESTS
category.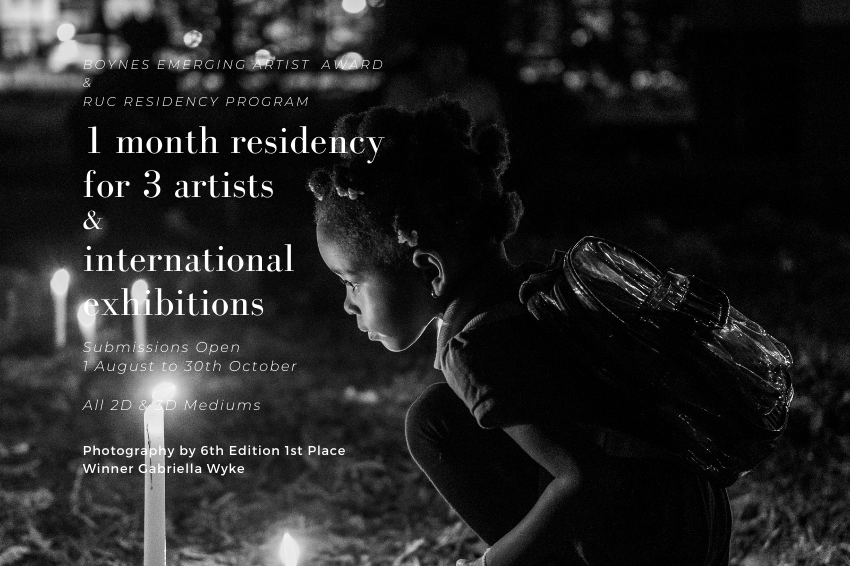 Add to Favorites
Report Listing
Copyright Policy
Artists and Photographers
Image Usage Rights
Images will be used to promote artists and the award with credit attributed.
Call for Entries for Artists - Artist Residency
The Boynes Emerging Artist Award, which is an international artist-run art competition, has partnered, for the 7th Edition, with the Rural Residency for Contemporary Art (RUC). This is an art residency that is based in the Valcamonica Valley in the Italian Alps.
This partnership provides the 1st Place, 2nd Place and 3rd Place winners with the opportunity to participate in a month-long fully-funded artist residency. Artists will be able to connect with nature and their art, explore the history, culture, mountains, and nature of Valcamonica while enjoying the idyllic beauty and quiet of the mountains at villa RUC.
As Italy's first UNESCO world heritage site for its prehistoric rock engravings, the valley and surrounding mountains are rich with beauty and history. The RUC Artist Residency Program will host, at the same time and together, the first (1st), second (2nd) and third (3rd) place winners in the 7th Edition of the Boynes Emerging Artist Award for a one (1) month residency from the 1st August 2023 to the 31st August, 2023.
Winners recieve : 
International exhibition prioritization: Winners will be prioritized to submit a proposal for an exhibition at the U.S based Future Tense Gallery.
Group exhibition in the final week of the residency locally
Workshops and courses led by international artists such as Giorgio Cossu and Kelly Medford
Accommodation at RUC art residency for the time period of the residency
studio space
residency assistance
optional cultural activities, connection and networking with local and international artists
publication of the artists website on the RUC Artist Residency website.
The 3 winners will also receive Published Interview with Founder Chantal Boynes, Social Media Marketing, Digital Marketing, Winner Certificate and a Permanent Place on the Boynes Emerging Artist Award Official Website.
Emerging visual artists of any nationality, age, religion, and sex are welcome to submit via the Boynes Emerging Artist Award's website. All 2D & 3D artwork with any subject matter is accepted. Artwork must have been completed in the last five (5) years and must be the submitting artist's own original work. 
In previous editions, the award has partnered with Blick Art Materials, PR For Artists, and NoceFresca to provide emerging artists with the best opportunities to enhance their careers and heighten their practice. Beyond the scope of each edition, the award's platform aims to build a long-lasting community, supporting and promoting artists' careers even after the winners and finalists are announced.  
Submission & Announcement Timelines
Submissions will be open from August 1, 2022 and will be accepted until October 30, 2022. See below for more details.
 
Early Bird Submissions: August 1, 2022 -  August 30, 2022 at 11:59 PM UTC-4
Regular Submissions: August 31, 2022 - October, 30 2022 at 11:59 PM UTC-4
Finalists will be announced on November 21, 2022 
Winners will be announced on December 2, 2022 
Entry Fees (Prices in USD)
Early Bird Fee: $35 for 3 images & $7 for each additional image, MAX 10 images total 
Standard Entry Fee: $45 for 3 images & $10 for each additional image, MAX 10 images total
For more information on the 7th Edition rules, FAQs, prizes, and partner, 
visit www.boynesartistaward.com.
 
About Boynes Emerging Artist Award
Founded in 2019 by Chantal Boynes, The Boynes Emerging Artist Award was created to support, nurture and connect emerging visual artists worldwide and works to enhance the profile of undiscovered talent by offering career changing opportunities. Open calls are run bi-annually.
For more information about this artist residency please visit the Event Website.