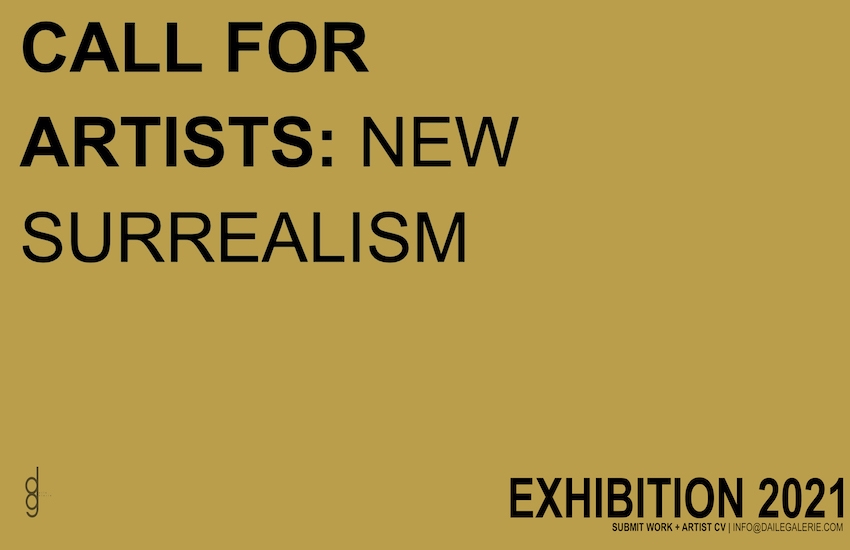 Email Friend
Add to Favorites
Report Listing
DAILE GALERIE is now inviting visual surrealist artists working with paint on canvas, mixed media on canvas, or fine art paper to consider for an online exhibition in 2021 titled "NEW SURREALISM". We are open to all subject matter and points of inspiration.
Dailë Galerie is a galvanization of ideas into a physical art space, envisioned by artist and art director Rodshir Dailë. The collective specializes in physical and digital immersive exhibition experiences. Curating exhibitions and special projects from various art collectives, and international artists. Donating percentages from sales and the GALE®IE store to local and global charities. Our core mission is to establish multicultural unification through the arts, social value impact, and philanthropy.
EXHIBITION DATES| January 7 - April 7, 2021
SUBMISSION DEADLINE| Sunday, November 8, 2020
SCOPE OF SUBMISSION| NEW SURREALISM will be comprised of the works by 4 selected artists.
The works will be curated and exhibited in the online gallery space of Dailë Galerie. Information pertaining to the exhibition will be corresponded to press outlets, writers, and critics by our Public Relations team. All participating artists will be promoted on all of our social media channels and will be highlighted in the exhibition catalog.
Please include a short statement describing your work and include an artist bio. There is no limit on the size, year of production, or nationality, but the submitted works should respond to the exhibition theme.
COPYRIGHT|
Artist retains the sole copyright for the images; submitted images can be available for public viewing on our website and social media, including in relation to promotional activities for the exhibition; All works/images will be credited with their artist name.
SUBMISSION FEES|
€30 up to 6 works; Submission fees are non-refundable.
email: info@dailegalerie.com
website: http://www.DaileGalerie.com/
www.dailegalerie.com