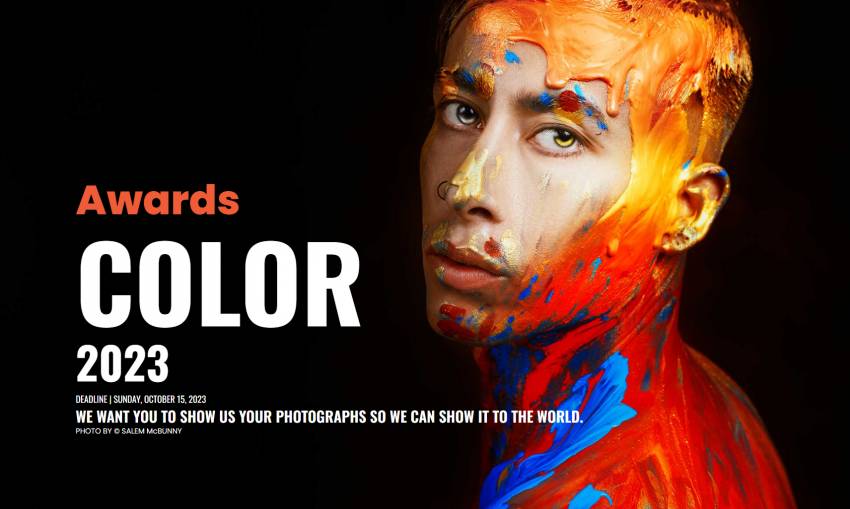 Email Friend
Add to Favorites
Report Listing
WE INVITE YOU TO PARTICIPATE IN THE SECOND EDITION OF THE COLOR AWARDS. WE ARE LOOKING FOR THE BEST COLOR PICTURE FOR THIS YEAR, 2023
THE COMPETITION IS OPEN TO ANY INTERPRETATION OF COLOR PHOTOGRAPHY IN ALL ITS DIMENSIONS, FROM EVERYDAY REALITY TO PURE ABSTRACTION
 
Spanning the expansive realm of photography, the Color Awards warmly welcome an array of genres: from the raw truth of photojournalism, the soulful depth of portrait, the bold beauty of the nude form, the grandeur of architecture and landscape, the untamed vigor of wildlife, to the ingenuity of abstraction, experimental, and street photography. We also extend our invitation to creators of still life, artistic photography, and those employing alternative processes. Our anticipation runs high for the opportunity to behold images reflecting unique perspectives and inventive methods, as well as those adhering to the more time-honored traditions of color photography.

The role of color in photography is both pivotal and profound. It is the vibrant storyteller, offering a richer narrative of the image. It elucidates the scene, inviting viewers to delve deeper, thanks to the wealth of information it provides. We view color photography as an intricate art form, necessitating countless decisions to harmonize the interplay of colors, thereby establishing a meaningful visual relationship. We are excited to showcase the magic that springs forth from this color-rich tapestry of storytelling
After a decade of championing talented photographers, we have meticulously crafted the Color Awards with a singular goal: to discover breathtaking images and photographers eager to elevate their career through the recognition and international visibility uniquely offered by the Color Awards. Your compelling images warrant exposure and we are committed to ensuring that they are seen. We invite you to share your artistry with us, so that we, in turn, can introduce it to the world.
THE COLOR AWARDS ARE DESIGNED FOR YOU AND YOUR WORK ACHIEVE INTERNATIONAL RECOGNITION
A distinguished international panel, comprising of luminaries like Enrico Stefanelli, director of Photolux Festival; Tom Evangelidis, Director of Sydney's Black Eye Gallery; Chris Davies, Founder and Director of Photo Independent in Los Angeles; and the executive team of Dodho Magazine, will be determining the celebrated images and photographers in this second edition of the 2023 Color Awards.

The victorious contender will be awarded the prestigious title of Photographer of the Year, accompanied by a cash prize. Their work will be prominently featured in the annual Color Awards book, standing alongside the top 100 finalists, the second and third place winners, and two honorees. In addition, the premier 25 images will be showcased for a year in our online gallery, which attracts thousands of visits from industry professionals. This accolade provides an invaluable platform for visual artists to showcase their talent and skill, offering an unparalleled opportunity for their work to be appreciated by an international audience. Simultaneously, this initiative also seeks to promote the art of color photography, highlighting the beauty and depth that this form of expression can achieve.