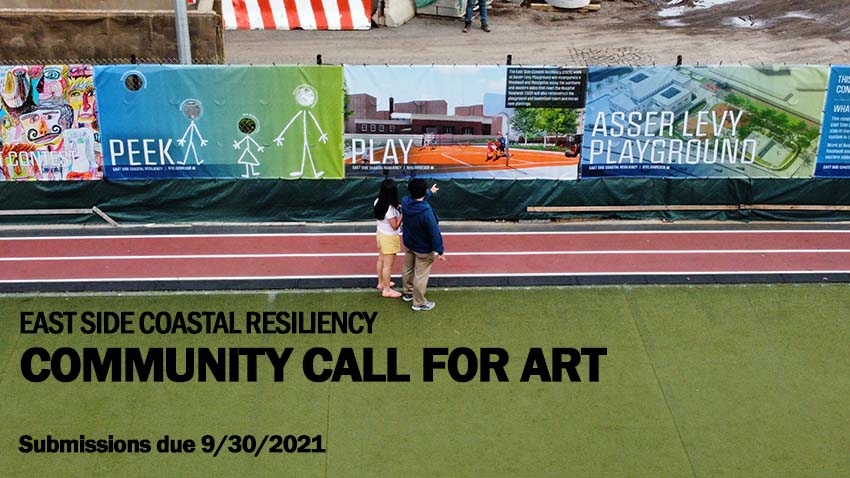 Email Friend
Add to Favorites
Report Listing
Event History
The East Side Coastal Resiliency (ESCR) project is a coastal protection initiative, jointly funded by the City of New York and the federal government, aimed at reducing flood risk due to coastal storms and sea level rise on Manhattan's East Side from East 25th Street to Montgomery Street. The ESCR project will protect 110,000 New Yorkers from the impacts of climate change by reducing flood risk to communities, properties, businesses, critical infrastructure, and public open spaces. In addition to providing flood protection, the project will strengthen and enhance waterfront spaces by improving accessibility, increasing ecological diversity, and delivering improved recreational amenities to a vibrant and highly diverse community. Construction is now underway, and the ESCR project is sponsoring this Call for Art to solicit artwork from the community to be displayed on construction fencing around the project site.
What Makes this event different?
The ESCR project is the first of NYC's major resiliency projects. This Call encourages local artists and students to think creatively about climate change and about resiliency in the face of sea level rise and the threat of increased storms.
Copyright Policy
Artwork must be the original work of the submitter and cannot contain copyrighted images.
Image Usage Rights
If the artwork is selected, all rights, title, and interest is assigned to NYC Department of Design and Construction (NYC DDC).
Selected pieces will be printed on large-scale decorative mesh and installed on construction fencing around the project site. Submissions will be judged by representatives from local arts-based organizations and members of Manhattan Community Boards 3 and 6. Artwork will be selected based on its creativity and responsiveness to the themes of resiliency noted on the project website. This work is anticipated to be displayed publicly for 2-3 years.