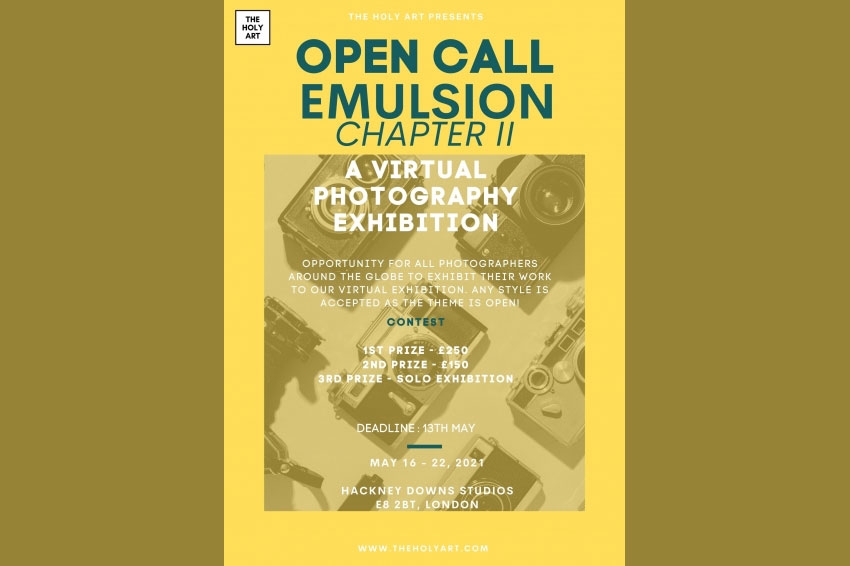 Email Friend
Add to Favorites
Report Listing
Any photographer from any background can submit any of their work. There is no charge to submit your application, please feel free to share your work with us. A small fee (£35) is applied per artist once they have been selected for the exhibition.
The team will review all applications and the selected work will be announced in May 2021.
DEADLINE: 13th MAY 2021
EXHIBITION DATES: MAY 16 - 22, 2021
3 x Prizes will be given to our winners once the exhibition is live by our team:
1st Prize - £250
2nd Prize - £150
3rd Prize - Solo exhibition
*We've partnered with a photography studio based in East London in order to offer 25% off of your next booking with them. All selected artists will be entitled to the discount.
HOW TO APPLY:
Submit (attach on the email) 1-5 images by email (jpeg format, up to 5MB each image). Please name each file with the title of each artwork (e.g. "Untitled.Jpeg")
Details of the artwork (title, size, medium and price). (e.g. "Untitled", 50 x 70 cm, Photography, £ )
--
A brief bio about the artist / artwork (120 words max, preferably written in the 3rd person)
Send us your website and social media (if this is applicable)
Please email all the information above to hello@theholyart.com and quote EMULSION: CHAPTER II on the subject of your email.
FEES
Virtual Gallery