The deadline to participate in this event has passed. Find other call for entries and opportunities by browsing this site. Try search for other events in the
Art
»
JURIED EXHIBITIONS
category.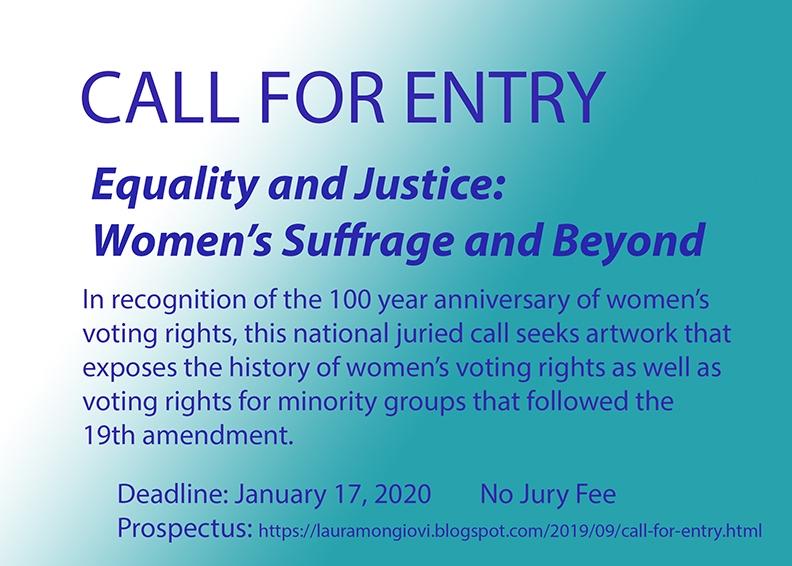 Email Friend
Add to Favorites
Report Listing
Equality and Justice: Women's Suffrage and Beyond
A National Juried Exhibition
Prospectus
In recognition of the 100 year anniversary of women's voting rights, this national juried call seeks artwork that exposes the history of women's voting rights as well as voting rights for minority groups that followed the 19th amendment.
Selected artists will be asked to provide a brief statement about their artwork. 
Juror Info:
Laura Mongiovi, Associate Professor of Art and Design, Flagler College, St. Augustine, Florida.
Ms. Mongiovi exhibits her work in solo exhibitions, juried and group shows. She teaches across the curriculum at Flagler College and presents her teaching pedagogy at national conferences. Ms. Mongiovi guest lectures about her work and leads workshops. She has a M.F.A. from University of Colorado at Boulder and a B.F.A. from Florida State University. lauramongiovi.com
Venue Info:
Tovar House, St. Augustine Historical Society
22 Saint Francis Street, St. Augustine, Florida
 Submission requirements:
·      Each artist is limited to a maximum of (3) entries. Each entry is defined as an individual work of art represented by a full scale and detail image.
·      Digital images should be a minimum of 300 dpi (1200 x 1800 pixels) with borders, standard media print size. Or 300dpi (1800 x 1800 pixels) without borders.
·      Digital images must be labeled as follows: Lastname_Firstname_Titleofwork.jpeg. For Example: Smith_Lynn_MakingTime.jpeg.
·      Please include an image list in the body of the e-mail. Image list to include: Title, Materials, Date.
·      Digital submissions need to be emailed to:  lmongiovi@flagler.edu
·      Subject line must contain Equality and Justice Submission 2020
·      An e-mail will be sent to confirm your submission.
·      Submission Deadline: Friday, January 17, 2020 at midnight Pacific Standard Time.
Important Information:
·    No Jury Fee.
·    Works must be completed on or after January 1, 2016. Tovar House and Juror Laura Mongiovi reserve the right to reject any physical work that is not suitably represented by the artist's submission of images.
·      Please note that due to the nature of the venue (a historical landmark) nothing can be directly hung or inserted into the walls which are made of coquina shell. The venue has a suspended hanging system which can accommodate 15 pounds of weight. Pedestals will also be provided for display purposes.
·      The following links provide information on Tovar House. The interior photos were taken January 2017.
 http://www.staugustine.com/st-augustine-450th/2015-07-12/tovar-house-gets-second-look
·      A look inside Tovar House. https://lauramongiovi.blogspot.com/2018/01/blog-post_84.html
·      Entries will be insured by Tovar House while in its custody provided that the artist has declared an insurance value not to exceed 50% of the selling price.
·      No work may be withdrawn before the close of the exhibition.
·      The exhibition will be publicized regionally & nationally. Tovar House and Flagler College reserve the right to photograph any accepted work for the purpose of publicity.
·      Sending an entry to this exhibition shall imply an agreement on the part of the sender to all conditions noted above.
 Submission Deadline: Friday, January 17, 2020 at midnight Pacific Standard Time
Shipping:
·      Artists are responsible for pre-paying all shipping charges to and from the exhibition site. A pre-paid return shipping label must be included. Accepted works must be hand-delivered or shipped according to the instructions provided in the Artist Contract.
    Hand-delivered work to be picked up by artists, all other artwork will be shipped.