The deadline to participate in this event has passed. Find other call for entries and opportunities by browsing this site. Try search for other events in the
Art
»
COMPETITIONS & CONTESTS
category.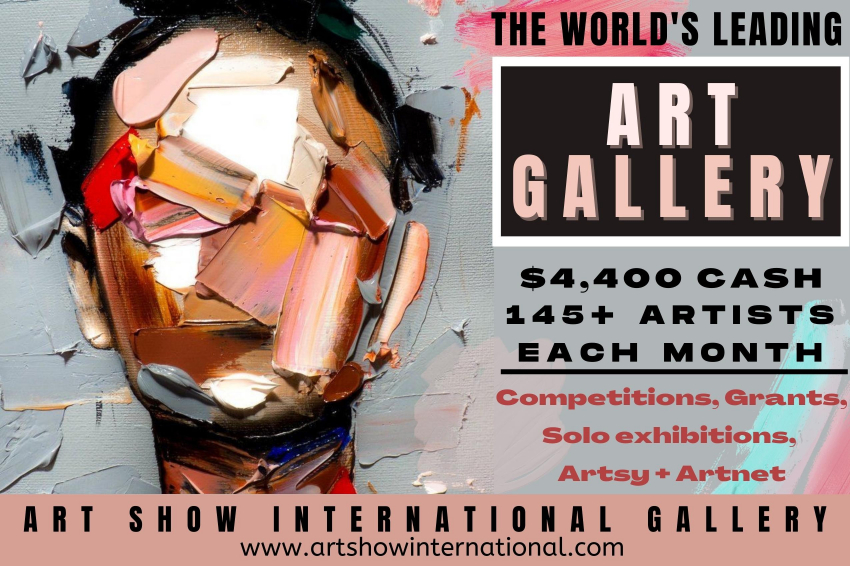 International Juried Art Competition | $4,400 Cash Prizes to 145+ Artists Each Month | $1,000 Artist of the Year | Sell Your Art on ARTSY & ARTNET
Add to Favorites
Report Listing
Event History
Our 2021 and 2022 art competitions have been a resounding success. In the last month alone, $4,400 in cash prizes were given out to 145+ talented artists. There were several other gifted artists who were also quite deserving of the prize money and could have as easily won the competition.
What Makes this event different?
ART SHOW INTERNATIONAL GALLERY is aware of artists' needs and preferences during these unprecedented times. Our aim is to distribute prize money equitably to help out as many artists as we can in our community. Winners receive exceptional recognition in their fields. All cash prize awards are unrestricted and given with no strings attached. Two art competitions are held each month. Long term and permanent residency with our gallery is available where we represent you and your art and promote you in our newsletters and social media. We pride ourselves as having the best services for all visual artists. We will help you out in any way we can.
Call for entries for Artists
Artists can submit a variety of art media, including 2D and 3D works, sculpture, painting, photography, digital, printmaking, fiber, graphic, mixed media, as well as experimental and installation works.

All the art competitions and exhibits are juried and open to artists internationally. Winners get widespread worldwide recognition and cash prizes.
Theme​s
​The current themes include
SOLO EXHIBITION, ARTIST GRANT, LANDSCAPE, FLOWER, ANIMAL, ABSTRACT, OPEN, FIGURATIVE, PORTRAIT, STILL LIFE, COLOR
Artists can apply their own interpretation in representing the overall theme. Representational as well as abstract concepts related to these themes will be considered. Additional themes will be announced.
Categories​
Each theme has the following three categories:
1. Painting 2. Photography & Digital 3. Sculpture & 3D Installation
Deadlines
Deadlines are usually every 15 days. Please refer to details on the website.
Awards
Cash prizes of up to $50,000 annually will be given out to winners. The grant money will be unrestricted and may be used in any manner by the recipient artist. Depending on the number and quality of artworks applicable to each theme, the following prizes maybe considered:
First Prize Award (Overall) $150-$300
Merit Prize Award (Painting & Mixed Media) $100-$200
Merit Prize Award (Photography & Digital) $100-$200
Merit Prize Award (Sculpture & 3D Installation) $100-$200
Talent Prize Award $50-$100
Honorable Mention Award
Finalist Award
All competition winners will receive Award Certificates.
Fees
The entry fee for each artwork submission is $10.
Solo Exhibition entry fee is $35. If selected, artists have the option of a free month-long exhibition, or choose to showcase their works on an annual or permanent basis for a small fee.
Artist Grant entry fee is $45. If selected, artists are awarded $1,000 grant money to pursue their art career.
How to Apply​
Details for all current and upcoming the art contests and exhibitions can be found on our website.
You may choose one or more themes. Once selected, please click to make a payment and submit your artworks. There are two ways to pay, by PayPal or by credit card. Once you've paid for your art submissions, you'll be directed back to where you can upload your images and other details.
Contact
Any questions, please contact us at info@ArtShowInternational.com. We respond to all queries within 2 to 6 hours.
For additional information please visit the Event Website.