The deadline to participate in this event has passed. Find other call for entries and opportunities by browsing this site. Try search for other events in the
PHOTOGRAPHY
»
JURIED EXHIBITIONS
category.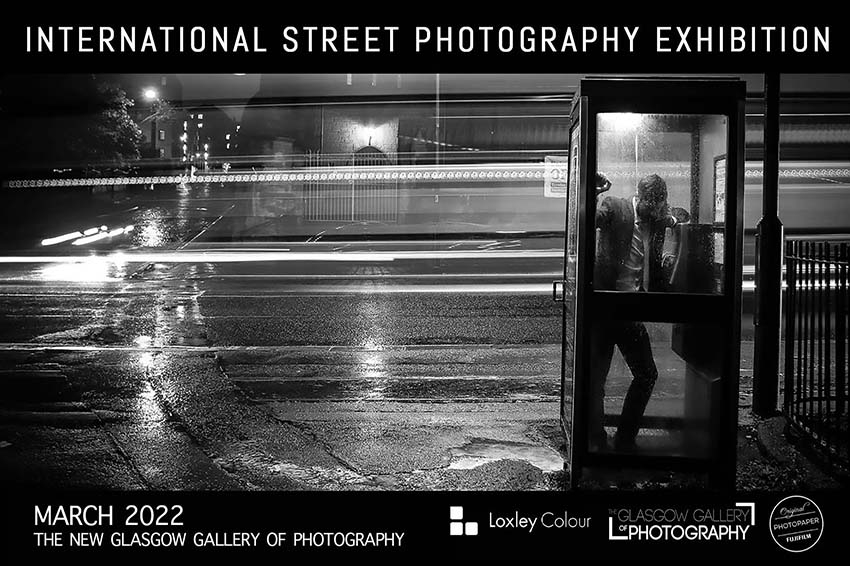 Add to Favorites
Report Listing
Event History
The gallery has been in existence since 2015, however, with Covid 19 we had to move online. We are now re-opening a new gallery space in the centre of Glasgow Scotland as well as a brand new Book and Art centre.
What Makes this event different?
In Scotland, we are the only gallery of its kind. We offer a unique space for photographers to come together to exhibit their work and view work from international photographers who otherwise may not have the chance to show their work to a much larger audience.
Copyright Policy
ou are the only copyright owner and creator of the photographs. The photographs do not infringe upon the copyrights or any other intellectual property rights of any third person or entity, or violate any person's rights of privacy, does not include trademarks owned by third parties or violate any other law. All entrants agree to fully indemnify Glasgow gallery of photography in respect of all royalties, fees and any other financial debt to any person by reason of your breaching any of the foregoing. ​ The royalties of the Works are not bestowed to The GGOP at any time. The copyright of the Works remains in the creators and in them alone.
Image Usage Rights
The copyright of the Works during and after the exhibition remains with the Artist. GGOP does not have the right to make use of or bestow the high definition files or the prints of the Works that will be used for the realization of the exhibition. GGOP will not have any commercial profit from the Works that will be exhibited and it cannot exploit them at any time. ​ GGOP assume no responsibility for any incorrect, inaccurate or incomplete information that has been uploaded in no event will GGOP be responsible or liable for any technical or colour representation of the photos.
Call for entries for photographers
We will soon return to a free submission model, but this is a pay and participate exhibition. If you pay, we will display your work. We do not take a fee and then turn folks away. This is a temporary measure since this is our first exhibition back. 
The participation fee for this exhibit is £30.00. The fee covers printing, framing and exhibiting as well as all the marketing costs and hosting your images on our website.
Once you submit your work it will be selected by our gallery curator and exhibitions coordinator. Your work will then be sent to a reputable local printer and printed on fujifilm photographic paper to a very high standard. It will then be framed and hung in our new black gallery frames acquired from a well respected local frame maker. The work will be curated and hung in the gallery for a period of 2-weeks where it will be viewed by members of the public, photographers, artists, curators, journalists etc. The work will also then be displayed on the website and sent to our mailing list of over 1000 people. Your work will also be shared with thousands of people on social media. The purpose of which is to bring your work to a new much wider audience.

Your name will be displayed along side your work, and if you wish to have your work for sale we can organize that also. Be sure to tell us how much you would like to sell your work for/ 90% of the sale will go to the photographer (We take a small 10% fee to cover admin and processing fees and things like packaging and postage should the item need to be posted).
The Exhibition will take place at the beginning of March.( Exact date tbc)
For more information about this call for entries for photographers please visit the Event Website.