The deadline to participate in this event has passed. Find other call for entries and opportunities by browsing this site. Try search for other events in the
Art
»
ARTIST RESIDENCIES
category.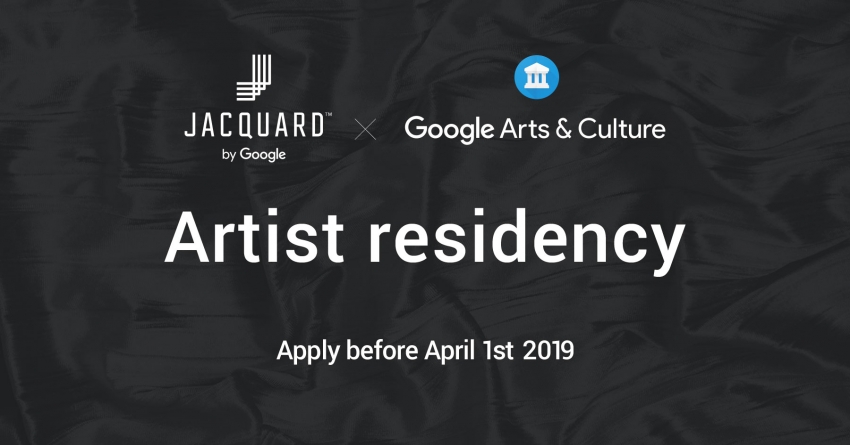 Print
Email Friend
Add to Favorites
Report Listing
Call to Artists.
Jacquard by Google and Google Arts & Culture are launching an artist residency program that will enable three artists to conceive and create works exploring textiles, connectivity, and creativity over the course of a five-month residency. The work will be curated by Pamela Golbin.
Invented by Dr. Ivan Poupyrev in 2014, the Jacquard yarns were created in Google ATAP Research Lab in Mountain View in partnership with artisans in Japan and braided on the same type machines that, for hundreds of years, have been producing materials for Japanese kimonos.
The result is a conductive core that can be combined with a variety of natural and synthetic fibers and woven into any textile using traditional looms in manufacturing factories. Several times awarded, Jacquard is the first platform that enables brands, designers, and creators to integrate connectivity and intelligence seamlessly into their products.
The residency aims to explore the yet undiscovered, creating a new dialogue between technology and art by leveraging Jacquard yarns into physical installations. The end of the program will be celebrated by showcasing the art installations at a private event in Paris in October 2019 and potential partner museums. Final work and the Making Of process will additionally be featured in a dedicated section on the Google Arts and Culture platform.
Artists can apply on Google Arts & Culture from today until April the 1st 2019

Media contact
Google Arts & Culture - Marie Tanguy: presse-fr@google.com
Jacquard by Google: Jacquard-residency@google.com
About Jacquard
With a vision of combining the personal and tactile elements of textiles with the immediacy and flexibility of digital services, Ivan Poupyrev joined Google ATAP in January 2014 and began working out the initial concepts behind Project Jacquard. The first product incorporating the Jacquard platform – Levi's Commuter Trucker Jacket – was debuted during a demonstration on-stage at Google IO 2016. On September 2017 Levi's® CommuterTM Trucker jacket with Jacquard by Google was put on sale in the US and got amazing feedback from the industry. In 2019, Jacquard platform will develop its footprint to multiple brands and countries.

About Google Arts & Culture
Google Arts & Culture put the collections of more than 1,800 museums at your fingertips. It's an immersive way to explore art, history and the wonders of the world, from Van Gogh's bedroom paintings to the women's rights movement and the Taj Mahal. The Google Arts & Culture app is free and available online for iOS and Android. Our team has been an innovation partner for cultural institutions since 2011. We develop technologies that help preserve and share culture and allow curators to create engaging exhibitions online and offline, inside museums. Read about our latest projects on the Google Keyword blog.

About Pamela Golbin
Pamela Golbin is an internationally renowned figure in the Fashion industry, with extensive historical knowledge of cultural and design issues. She is a leading expert in contemporary Fashion and has organized landmark exhibitions worldwide. Ms. Golbin is also a successful published author and is invited to lecture on a regular basis all over the world. From 1993 to 2018, Ms. Golbin was Chief Curator of Fashion and Textiles at the Musée des Arts Décoratifs, Paris.
For more information about this opportunity for artists, please visit the Event Website.