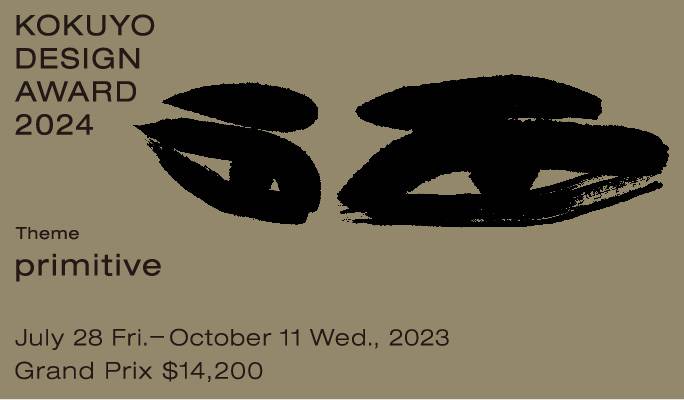 Email Friend
Add to Favorites
Report Listing
Event History
Since its establishment, excellent product designs have been selected from entries that represent current social conditions, and award-winning works have been turned into commercial products through co-creation between KOKUYO developers and the award winners. By delivering designs to the world that breathe new life into the tools we regularly use in our daily lives and at work as reliable products, KOKUYO aims to support the future activities of designers and at the same time, bring you a tomorrow you can't wait for. More than 20 years have passed since the founding of the award, and more than 20 products have been created to date. It is continuing to evolve as a project that conveys value reflecting the times, and not simply as something to be selected and awarded.
What Makes this event different?
Student entrants will also be eligible for the New Generation Award, established exclusively for them, to encourage coming up with unique ideas and challenging oneself unbound by conventional thinking with anticipation for success in what they do in the future. KOKUYO's Purpose is, "Bringing you a tomorrow you can't wait for." We will select up to 10 outstanding entries that, based on their presentation sheets, make us "feel that their futures will be exciting."
Copyright Policy
•The contest organizer recommends all entrants take steps to protect their rights as necessary. •Worldwide rights related to patents, utility models, designs, trademarks, or copyrights (including rights specified in Article 27 and 28 of the Copyright Act of Japan) for winning submissions shall reside with the contest organizer for any works selected for awards (winning submissions). The entrant agrees not to exercise his/her rights to such works for winning submissions. Payment for the transfer of said rights from the entrant to the contest organizer shall be deemed as made in the form of contest prize money. •All rights (intellectual property rights, etc.) and obligations related to works not selected for awards shall, as a rule, reside with the related entrant. •An award given to any winning submitted work with the same (or very similar) design as an article made public may be withdrawn at any time, even after winners have been announced. The foregoing also applies to any submitted works that infringe on the intellectual property rights of a third party, either prior to, concurrent with, or subsequent to submission.
Image Usage Rights
•Submissions must be the original work of the entrant. Submissions cannot have been made public (in Japan or overseas) before or concurrent to this contest. •Submitted works cannot have been entered into other competitions. Submissions may not be displayed publicly without the agreement of the contest organizer. •The organizer shall not be held responsible for any expenses incurred with the entry of works withdrawn. The contest organizer will exercise due care in the handling and transportation of works submitted. However, the contest organizer shall not be liable for any damage or loss resulting from natural disasters or other unexpected events. •Works (including Presentation Sheets and Models) submitted shall belong to the contest organizer and shall not be returned. The contest organizer retains all rights related to contest exhibition or publication of submitted Works.
THEME: primitive
ELIGIBLE ENTRIES
Any stationery, furniture or tool used in working, learning and living scenes
ELIGIBILITY
Corporations, organizations, individuals, and groups are all welcome, regardless of age, sex, professional background, or nationality.
Only designs that have never before been shown publicly (in Japan or other countries) are eligible for entry.
Entrants must be able to give a presentation at the final judging that's scheduled for March 16, 2024.
SCHEDULE
- Registration & Submission: July 28 (Fri) to 12:00 (noon) JST on October 11 (Wed) , 2023
- First Round of Judging: Late October 2023
  Judgement based on the presentation sheet.
- Second Round of Judging: Late November 2023
 10 finalists selected from works that passed the First Round of Judging
- Notification of Second Round Results: Mid December 2023 (tentative)
- Final Judging and Ceremony (Announcement of the Winners): March 16 (Sat), 2024 (tentative) (Held in Tokyo)
  Judgement based on a presentation and model.