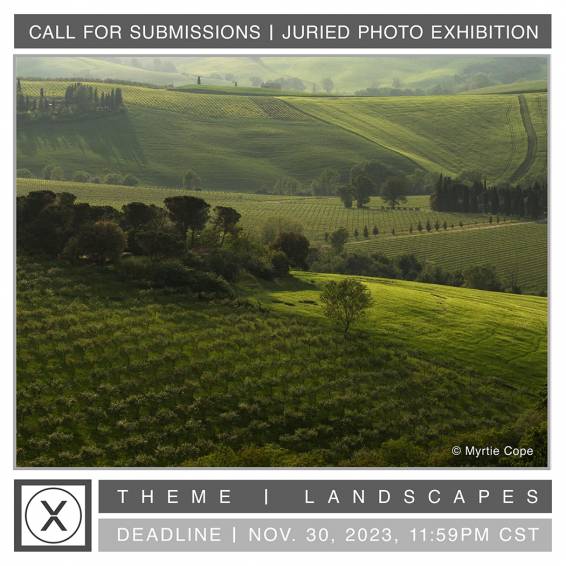 Add to Favorites
Report Listing
What Makes this event different?
Chosen artists take part in an exhibition within our physical gallery located in Minneapolis. Our openings draw a dynamic and diverse audience. Additionally, all photographs will be included in an exhibition book, which can be purchased when the show begins, and showcased in our digital gallery. Praxis is an expanding hub for photographic arts, emphasizing public involvement through exhibitions, artist discussions, workshops, and various other events.
Copyright Policy
Artist retains all copyrights to their own images.
Image Usage Rights
Artists whose photographs are accepted for exhibition grant Praxis Gallery the nonexclusive right to use, print, and reproduce submitted digital files for the purpose of the exhibition, promoting the artist, promoting related programs and subsequent display on Praxis Gallery's website, social media, and online exhibition archives. The artist's name will be included wherever the photographs are displayed.
Photography Competition/ Juried International Exhibition
Landscape photographers are adept at showcasing the presence of nature, as well as human-made elements that shape or disrupt natural beauty. Many of these photographs depict unspoiled nature, devoid of human impact, featuring striking landforms, weather phenomena, ambient light, and other awe-inspiring elements. Beyond aesthetics, landscapes often carry deeply personal and emotional narratives, reflecting moments of love, nurturing, as well as past heartaches and regrets.
At Praxis Gallery, we are in search of photographic artwork that embarks on a broad, interpretive, and personal exploration of the landscape, whether as a physical location or a conceptual concept, expressed both literally and abstractly. We welcome submissions in all genres, capture types, black & white, and color, embracing both traditional and non-traditional photographic techniques and digital post-production processes. This exhibition is juried by G.S. Broz, inviting artists to participate in the celebration of the multifaceted world of landscape photography.
Entry deadline: Thurs, Nov. 30, 2023, 11:59PM CST
Notice of acceptance: Tues. Dec. 12, 2023, 4PM CST
Exhibition dates: Jan. 20–Feb. 10, 2023
JUROR: G.S. BROZ relocated to the US in 2018, after ten years in Asia. While based in Shanghai as a broadcast video director, he fell in love with film photography. His work examines themes of consciousness, spirituality, and ethics, and maintains a sturdy and cinematic quality informed by his pedigree as a filmmaker (B.A., Film Studies, University of Pittsburgh, 1999). Upon returning to the states, he began showing his work in juried shows and has since displayed physical work at galleries in Providence, RI, Sacramento, CA; Portland, OR; and Valencia, Spain. Pushing the boundaries of technology, he built a pioneering private gallery for his work in the metaverse on the Cryptovoxels platform in 2021. He currently leads the team at Edifice Metaversal (a mixed-use digital space in Decentraland) and continues to work as a freelance broadcast director based in Pittsburgh. His work has become a regular part of the group programming at Praxis Photo Arts Center. A solo exhibit of his most recent work, Yankee Enduro, is on display in The Lab Gallery at Praxis through Nov. 11. Learn more about the artist at https://www.gsbroz.com/
ENTRY FEE: $40.00 ($35 for Artist Members) for submitting up to five images, $5.00 for each additional image (up to ten total images per open call).
Payment is accepted by credit/debit card through our secure online submission site. The entry fee for submissions is non-refundable.
Praxis Members receive 10 images for the price of 5 images. To learn more about Praxis Membership Benefits, go to https://www.praxisphotocenter.org/memberships
In addition to keeping our entry fees low for all artists, Praxis also has a limited number of free entries for artists experiencing financial hardships. Email info@praxisgallery.com for more information.
ELIGIBILITY: International, all accepted. Entrants must be 18 years of age or older. Submitted images may not have been exhibited at Praxis Gallery within the past year.
ABOUT US: Praxis Gallery and Photographic Arts Center is a community based, not-for-profit, artist-led organization in Minneapolis that aims to support the development of new and emerging artists through exhibition and education. Our mission is to bring diverse perspectives into focus through lens-based art, creating exhibition and learning opportunities that engage, challenge, inspire, and surprise the public.
For more information about this call for entry for photographers please visit the Event Website.