The deadline to participate in this event has passed. Find other call for entries and opportunities by browsing this site. Try search for other events in the
Art
»
JURIED EXHIBITIONS
category.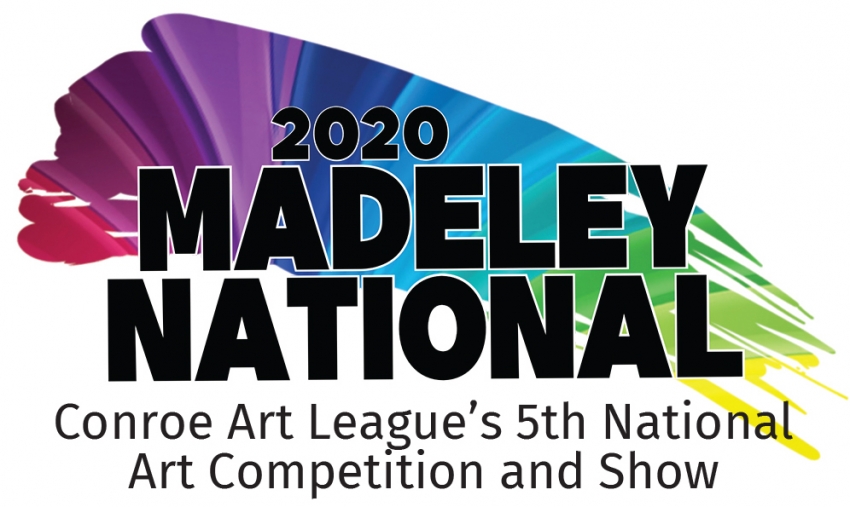 Add to Favorites
Report Listing
Event History
This is the fifth National Juried Art Competition and Show to be held at the Historic Gallery at the Madeley Building in downtown Conroe, Texas.
What Makes this event different?
This TWO CATEGORY competition features 7 cash prizes. * Category #1: Painting (oil, acrylic, watercolor) and Drawing (graphite, charcoal, pen and ink, pastel). * Category #2: Mixed Media, Photography, Digital Art, Printmaking, Experimental Art, Sculpture, Studio Fine Crafts (Except Jewelry). Entrants may enter artwork into one or both categories, not to exceed six (6) total entries per applicant. Award Total $6000:  Best of Show: $1500 First Place Category #1: $1000  Second Place Category #1: $750 Third Place Category #1: $500 First Place Category #2: $1000  Second Place Category #2: $750 Third Place Category #2: $500
Copyright Policy
The artist retains the copyright to the images submitted. By submitting image(s) you are giving CAL the right to use the images for the purpose of marketing the exhibition and for reproduction online. Artists grant the use of their image(s) as stated without further contact or compensation from CAL. Artist's recognition is provided with any use.
Art Call from the CONROE ART LEAGUE 
The Conroe Art League (CAL) is holding an Open Call for Entries for the 5th Madeley National Juried Show and Competition. This unique 2-category competition features 7 cash prizes that total $6000. All visual artists over the age of 18 are invited to enter.
Artists may enter up to six artworks in two categories. Category #1 includes Oil, Acrylic, and Watercolor Paintings and Graphite, Charcoal, Pen and Ink and Pastel Drawings. Category #2 includes Digital Art, Mixed Media,  Printmaking, Photography, Experimental Art, Sculpture, and Studio Fine Crafts except for Jewelry. 
This is the fifth year CAL will be hosting this popular event. Artists from all over the nation enter the competition for the opportunity to be one of the 60 works of art that will be judged and shown at the Madeley National in March 2020. Judges for the event are Karen Vernon from the Houston area and Jennifer Perlow from Denver, CO.  
Vernon has worked in multi-media, watercolor, oil, acrylic, and pastels for over 50 years and she has taught workshops throughout the USA, Canada, and Europe for more than 30 years. Her paintings have garnered notable awards and developed a worldwide market. She is a member of Who's Who in American Art and holds signature memberships in several prestigious art societies. Karen Vernon is a co-owner of The Gallery at Round Top in Round Top, Texas and she teaches art business and painting workshops across the nation. Her focus will be on Category #1, Painting and Drawing.  
Jennifer Perlow, will be judging Category #2.  The arts play a central role in Perlow's life and work. As principal of PS Art Consulting, Perlow helps her clients tell their stories through art.  She has spent the past 15 years as a consultant, curator, and leader in the arts community. Through Perlow's experience as owner of PS Gallery, and as a consultant with firms like H&P Consultants and Lewis Graham Art Consultants, she has built a national network of artists in order to help her clients find exactly what they are looking for. Perlow has had the pleasure of jurying a number of art shows, fairs, and festivals over the last 15 years.
The deadline to enter the Madeley National is December 13th, 2019. Artists will receive notification of accepted artwork by January 6th, 2020. All entries are made through http://tinyurl.com/yak8vdjm. Questions may be addressed through the Madeley National email at the5thnational@gmail.com.
"This successful juried show is a highlight in the CAL yearly calendar. We will receive hundreds of entries from all over the county as they compete to be one of the top pieces that will be on display and available for sale at the CAL Gallery at the Madeley March 5-28, 2020," states Ed Gorman, coordinator for the event.
"The addition of two categories, and therefore two sets of cash prizes, is an added bonus to this year's show. We will award $1500 for Best in Show and also award two $1000 first-place prizes, two second-place awards of $750 and two $500 prizes for 3rd place to correspond to the two category format," Gorman adds.  "A big reception and awards event is planned for March 7, 2020.  Plans to host a private reception for the artists, as well as a public awards presentation, are underway," states Gorman. "We encourage the public to take advantage of this rare opportunity to view and purchase a variety of art from artists from all over the country during the March exhibition."
Conroe Art League is a nonprofit organization consisting of vibrant artists and art lovers. Just seven local artists started the Art League in 1963. Today membership has reached over 300. Art education is a top priority for CAL and on-going classes are held in the gallery in many mediums. The mission of the League is to encourage artistic development and cultivate an appreciation for the visual arts through education, exhibitions, and community outreach.
For more information about contact the CAL Gallery at the Madeley in Conroe at 936-756-9572 or through the website at conroeartleague.com. 
For more information about this opportunity for artists, please visit the Event Website.