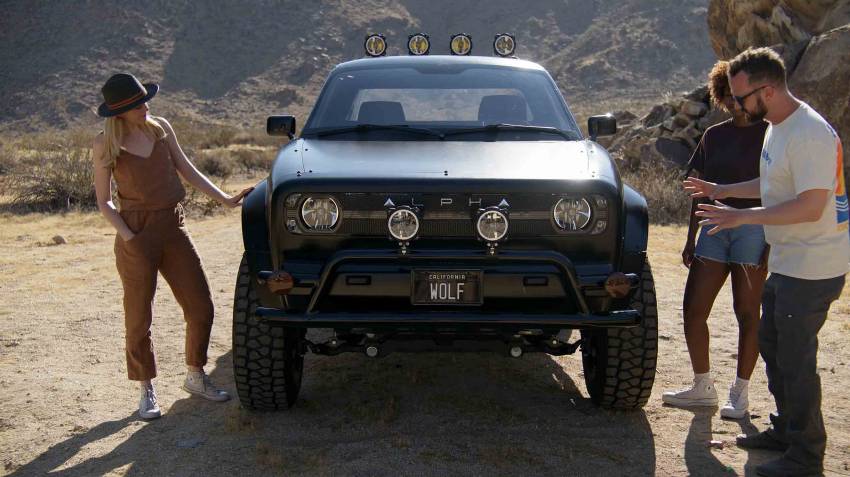 Email Friend
Add to Favorites
Report Listing
What Makes this event different?
Alpha Motor Corporation (Alpha) is an award-winning American automobile company based in Irvine, California, and the creator of the "California-built Wolf Electric Truck." In 2023, the U.S. House of Representatives awarded Alpha Motor Corporation the Certificate of Congressional Recognition for its technology patents and dedication to sustainable transportation. Alpha is focused on manufacturing mobility solutions that "Move Humanity®," innovating for the wellness of people and our environment by implementing advanced automotive technologies. The EV revolution led by Alpha is about applying disruptive industrial practices, reflecting the responsibility of the automotive industry in shaping a future that benefits humanity. Alpha is committed to creating the kind of electric vehicles we believe the world has always wanted to see but that have not existed – until now.
Alpha is hosting the global art competition to celebrate art and culture as an essential part of its philosophy.
Participants are encouraged to embrace the prompts as a source of inspiration to envision the electrifying potential of Alpha Motor Corporation's Wolf Electric Truck in every facet of your life.
Information on the Wolf Electric Truck can be found on the Alpha Motor Corporation website and social media (www.alphamotorinc.com and @alphamotorinc on Instagram and YouTube). Be inspired by the Wolf's design, photos, and driving videos and picture the sustainable future of your dreams, powered by the exhilarating possibilities of Alpha's extraordinary Wolf Truck.
The art competition encourages participants to embrace the prompts as a source of inspiration:
• PROMPT 1: My Sustainable Adventures With The Wolf Truck
• PROMPT 2: Why I Believe The Wolf Truck Will Change The World
• PROMPT 3: How l Plan to Move Humanity With The Wolf Truck
The art competition looks to foster a connection between visionary ideas for a greener future and Alpha Motor Corporation's unwavering commitment to creating a better world for all of humanity. Harness the transformative power of art and let the Wolf Truck ignite imaginative thinking towards a more sustainable tomorrow.
The competition is OPEN TO ALL AGES 4 & ABOVE.
ALL SUBMISSIONS/ LINK TO SUBMISSIONS MUST BE EMAILED TO movehumanity@alphamotorinc.com BY 11:59 PM PDT NOVEMBER 30, 2023. Winners will be notified via email prior to the official announcement on December 18, 2023.
All art form is welcomed. Below are some ideas for inspiration:
• Canvas and Code - A fusion of artistry from traditional to digital art forms
• Stories in Motion - Engaging short films, documentaries, and motion graphics
• From Lens to Reels - Visual storytelling through photography and film
• Words that Move - Creative writing of all forms and spoken word
• Literary Landscape - Poetic elegance, prose, and personal essays
• Taking Center Stage - Expressive dances and theatrical performances
• Music to My Ears - Musical masterpieces
• Digital Symphony - Innovative engagements through interactive media
• Sculpture - Inspirational shapes and forms
AWARDS
• 1ST: iPad Pro + Winner's Package
• 2ND: Apple Watch + Winner's Package
• 3RD: AirPods + Winner's Package
• HONORABLE MENTION: Winner's Package
*Winner's Package is an exclusive collection of Alpha Motor Corporation merchandise includes an official Alpha Motor Corporation Pin, Poster, and T-shirt.
JUDGING CRITERIA
GENUINE AND ORIGINAL We seek submissions that embody the spirit of originality, as we believe in the power of unique narratives to move and inspire humanity.
VISIONARY AND CREATIVE We value submissions that demonstrate imaginative interpretations of the given prompt, as we believe that visionary thinking is essential to drive meaningful progress.
EXCEPTIONAL QUALITY We recognize the importance of quality craftsmanship and attention to detail. Submissions that exhibit technical proficiency, artistic excellence, and a touch of heart will resonate with us.
SUBMISSION CATEGORY BY AGE
PUPS (Ages 4 to 10) Bright Stars who bring their budding imagination to the forefront
WOLVES (Ages 11 to 17) Young Innovators who show outstanding artistic and technical prowess
PACK LEADERS (Ages 18 to 29) Youthful Visionaries who bring forth thought-provoking creativity
ALPHA (Ages 30+) Experienced Navigators sharing their story and passion
The stage is set, and the world eagerly awaits the magnificent tales you'll weave with the Wolf Truck by your side. Let us move humanity forward with the power of imagination and the heartfelt passion that drives us! We look forward to receiving your submissions.