The deadline to participate in this event has passed. Find other call for entries and opportunities by browsing this site. Try search for other events in the
Art
»
JURIED EXHIBITIONS
category.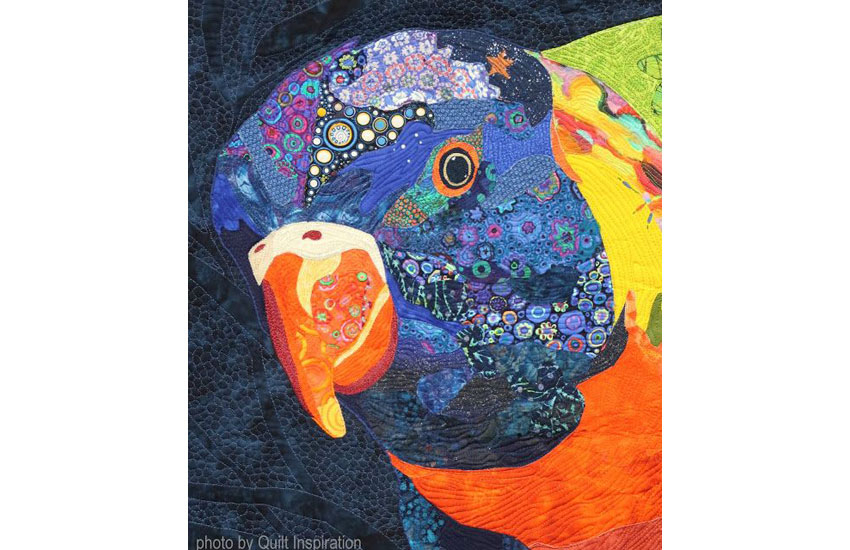 Print
Email Friend
Add to Favorites
Report Listing
What Makes this event different?
No fee to submit.
The McLean Textile Gallery, located in McLean, Virginia, a suburb of Washington D.C., will be displaying the best of wall hung fiber art. Quilting, felting, knitting, weaving, silk painting...any fiber art is eligible. Our exhibits will showcase the best of what fiber artists can create! 

This is a new national call for entry to showcase wall-hung fiber art in exhibitions during 2022. Each exhibit will be 4-weeks long.  Both solo and group shows are eligible. Groups may consist of 2 or more artists, submitting a single application. 

Artists can either hand-deliver and pick up artwork, or ship to and from the gallery. Artworks will be insured by the Gallery during the exhibition and the gallery will pay the return shipping fee. 

The exhibition must adequately fill the walls, with the artwork appropriately spaced. Artwork must be ready for display on the Gallery's STAS Zipper hooks wall display system. 

The Gallery requests that family-friendly, non-political work be exhibited. Contact us before applying, if you are unsure your work fits the guidelines. No commission will be taken for sales. Any sale negotiations will be strictly between the Artist and the customer. Works may also be marked not for sale. 

The selected artists/groups will be required to pay an exhibition fee, depending on the number of rooms required for their show. The walls are 104" high. Wall linear width for each room, and exhibition fees for accepted applicants, are: 
 
●      Gallery #1: approximately 740 inches; $100 
●      Gallery #2: approximately 625 inches, $75 
●      Gallery #3: approximately 1020 inches; $135 
●      All 3 Galleries: $295 

Applicants will be asked to choose which room(s) they prefer. Room choice is not a factor in jurying, but necessary for planning purposes post-jurying. Scheduling and room selection of the exhibitions is the final decision of the Gallery, but every attempt will be made to be mutually agreeable to the artist's preference. 

The application will require: 
 
●      Resume (2 pages maximum) 
●      Artist statement about your body of work, limited to 400 words. Statement should include your explanation of your body of work, and what you plan to display if you are selected. 
●      Images of ten samples of your work. The images should be representative of your work (or of your group's work) and need not be the pieces exhibited if your entry is selected. Uploaded images should be no smaller than 800 pixels on a side and up to maximum of 2800 pixels. We require one to three additional views or detail images for each work.
●      Dimensions, materials, and techniques are also needed for each artwork. 
●      Preference for number of gallery rooms. 

Host:  The creator of the McLean Textile Gallery, Nancy Preston, has been involved in textile applications for over 40 years. She is the owner of the Quilt Shop of McLean specializing in quilt repair/restoration and custom quilting. She holds two patents on quilt design and is officially registered as the "QUILT DOCTOR". Nancy has been a member of the business community in Fairfax County Virginia since 1987.

Jurors: Eileen Doughty and Cindy Grisdela

Eileen Doughty founded Doughty Designs in 1991 and has been creating commissioned work in the textile medium ever since, particularly thread sculptures. Her work is in private, public and corporate collections, and has been exhibited on five continents. She is a docent for the Smithsonian American Art Museum and Renwick Gallery.  DoughtyDesigns.com

Cindy Grisdela is an artist, teacher, and author of Artful Improv and Adventures in Improv Quilts. She specializes in improvisational quilt designs and dense free motion quilting, and she travels extensively all over the country teaching and lecturing to guilds and groups. Her work is in public and private collections nationwide. www.cindygrisdela.com
You can learn more about the call to artists at: https://themcleantextilegallery.com
For more information about this call to artists, please visit the Event Website.