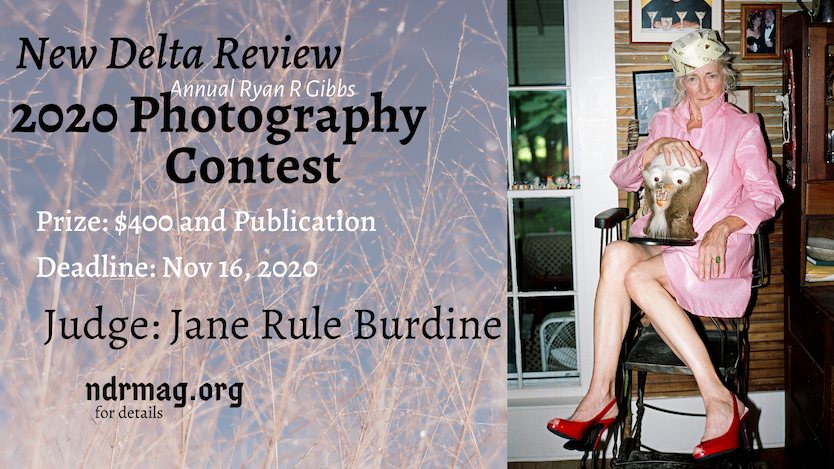 Add to Favorites
Report Listing
Event History
New Delta Review is a well-respected online literature and arts magazine, run by students and faculty at Louisiana State University's MFA Program in Creative Writing. NDR is known for its publication of innovative and experimental work, including poetry, fiction, and essays, as well as digital media, visual art, and photography. In its 35 year history the magazine has published renowned writers such as Anne Carson, Ai, Robert Olen Butler, Raven Leilani, Carmen Giminez Smith and Rosemarie Waldrop, as well some of the best up-and-coming young writers and artists. NDR's annual Ryan R. Gibbs Photography Contest is held in honor of Ryan R. Gibbs (1981-2012), a gifted editor for New Delta Review, an incredible writer of fiction and screenplays, a talented photographer, and, above all, a dear friend.
Open call for the Ryan R. Gibbs Photography Contest. New Delta Review seeks a series of 5-11 photographs to be featured in Issue 11.1. Ideally, the photographs should tell a story to the viewer, or should be centered on a unified theme of the artist's choosing. Learn more about our journal here, and check out the stunning work of last year's winner here. 
Judge: Jane Rule Burdine  Prize: $400 and publication in the Issue 11.1 of New Delta Review Deadline: November 16, 2020  Entry Fee: $5, free after November 8, 2020    
Additional Submission Guidelines
All entries must be previously unpublished and original work of the entrant.
All work must be submitted through our electronic system.
Send only high quality med-res JPG files.
Please submit 5-11 photographs as JPG or as a single zip file. 
Submissions will first be reviewed by our editorial staff, and finalists will be passed on for judging.
Family, friends, and previous students of the judge are ineligible for participation in the contest. In addition, students currently enrolled at Louisiana State University and faculty members at Louisiana State University are ineligible for participation in this contest.
If you have any problems submitting, please send an email to newdeltarev@gmail.com.
About this year's judge: Jane Rule Burdine is a legendary Southern photographer. A native of Greenville, Mississippi, she has been living and working in north Mississippi since 1984. The first book of her work, Delta Deep Down, was published by University Press of Mississippi in September of 2008. A documentary about Jane Rule's life, Under Her Skin, (dir. by Kelsey and Rémy Bennett) premiered at the 2018 Tribeca Film Festival. She now lives in Taylor, MS, where she served as mayor for twelve years.
https://newdeltareview.submittable.com/submit/175699/2020-ryan-r-gibbs-photography-contest