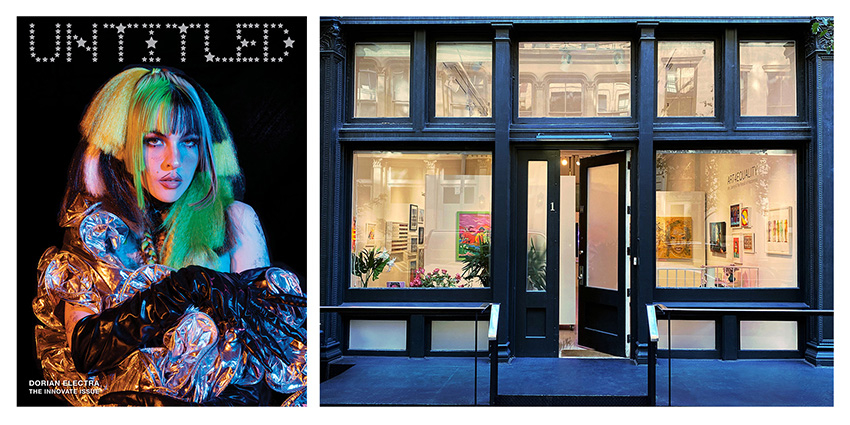 Email Friend
Add to Favorites
Report Listing
Open Call: The "REBEL" Issue + Exhibition presented by The Untitled Magazine + The Untitled Space 
Deadline Extended: July 10, 2022
Are you a Modern Rebel, A Cultural Game Changer? An Art Activist? Perhaps even an Art Revolutionary? Do you create artwork that challenges the status quo? Is your work subversive or purposefully unconventional? 
The "REBEL" Issue and Exhibition will celebrate modern rebels and creative game-changers that are inspiring positive change and progression with their artwork. 
Artists are invited to submit their work for The Untitled Space x The Untitled Magazine "REBEL" Issue and Exhibition. The Untitled Magazine's Collector's Print Issue is globally distributed to over 30 countries. Select retailers include Barnes & Noble, WH Smith, Iconic, Hudson News, Selfridges, and more. The Special Collector's Issue will debut with a group show this September 2022 at The Untitled Space art gallery in Tribeca, NY. 
Selected artists will be featured with 1-6 pages in the print issue along with their artist biography and/or artist statement. Their artwork will be featured in the gallery exhibition which will additionally be featured on the gallery's website, as an exclusive on Artsy.net, as well as featured in special coverage of the exhibition on a variety of media outlets, and on our social media channels. 
Artists will additionally have the opportunity to submit their work for consideration for a cover of The Untitled Magazine's "REBEL" issue along with an exclusive interview on their work for the magazine. 
Artists who submit may also be considered for future opportunities with The Untitled Space gallery such as art fairs, group shows, online exhibitions, and exclusives, as well as future opportunities for coverage in The Untitled Magazine and its online channels. 
Submissions are open to all artists, both national and international.
All ages, genders, and visual mediums will be considered.
THE UNTITLED MAGAZINE 
https://untitled-magazine.com/
The Untitled Magazine presents the latest in art, fashion, and culture for creative audiences with an eye for originality. Founded in 2009, The Untitled Magazine is an independent print and digital publication featuring exclusive interviews with inspirational talent in the art, fashion, and entertainment worlds, along with coverage of international exhibits, art fairs, film festivals, global events, and more. 
ABOUT THE UNTITLED SPACE
https://untitledspace.com 
The Untitled Space is an art gallery located in Tribeca, New York in a landmark building on Lispenard Street. Founded in 2015, the gallery features an ongoing curation of exhibits of emerging and established contemporary artists exploring conceptual framework and boundary-pushing ideology.