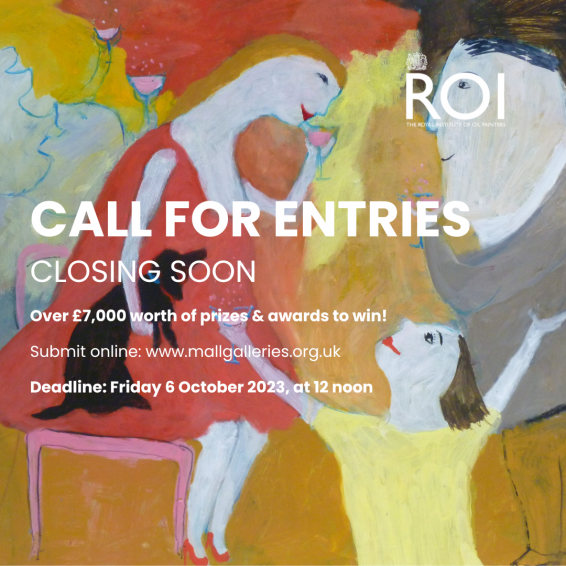 Email Friend
Add to Favorites
Report Listing
Event History
The Royal Institute of Oil Painters was founded in 1882 and is the only major British art Society that promotes and exhibits work of the highest standard exclusively in the Oils. The ROI provides a centre of excellence and encouragement to all who love this robust medium and is based at the Mall Galleries, London SW1.
Copyright Policy
The copyright and all other intellectual property rights in and to Works, will remain the property of the artist and any enquiries in relation to such rights will be referred to the artist. So far as any rights in the Works are owned by a third party that third party will remain the owner of such rights in and to the Works.
Image Usage Rights
The Exhibition Administrators have the right to copy and/or reproduce the Works and to communicate and/or issue such copies to the public in connection with the exhibition, for advertising the sale of the Works, for educational and public workshops, and for general marketing or promotional purposes, and other related activities, including without limitation the incorporation of images of the Works within promotional and marketing materials, postcards, catalogues, posters, DVDs, on Exhibition Administrators' websites, in workshop presentations and on information screens throughout the exhibiting gallery and any media now known or hereafter devised.
Last week to apply to the Royal Institute of Oil Painters Call for Entries. 
Submission Deadline: Friday 6 October, 12 noon.
The ROI theme for this year's Annual Exhibition is 'Urban Life', which can be interpreted widely. (N.B. The theme is optional, one aspect of a larger exhibition, to which oil paintings of all subjects, in any style, are welcome for consideration).
Eligibility to win prizes and awards, worth over £7,000, including the Winsor & Newton Young Artist Awards! Including the ROI themed painting prize, for the best interpretation of the theme 'Urban Life'. 
The submission process is entirely online, providing British and international artists the convenience of sharing their creations from the comfort of their homes, just a few clicks away. 
To find out more about the prizes & awards, how to submit, and eligibility conditions, please visit our website (Open Calls | ROI 2023). 
Submit your work online today at: https://mallgalleries22.oess1.uk/
Best of luck with your submission!