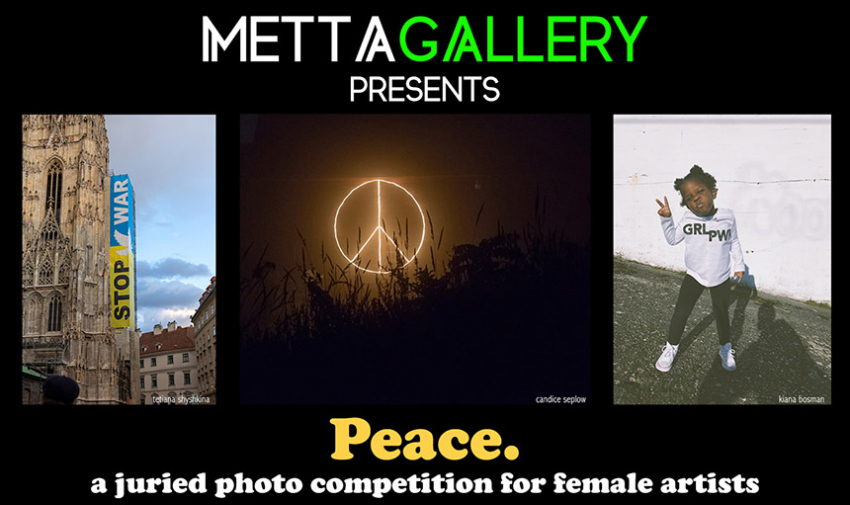 Add to Favorites
Report Listing
Image Usage Rights
Metta Gallery will have the rights to use submitted images for promotion of the show only.
Juried Photo Competition for Female Artists
"You can't shake hands with a clenched fist. " — Indira Gandhi
"You cannot find peace by avoiding life."–  Virginia Woolf
"Only art and music have the power to bring peace." —  Yoko Ono
The Gallery at Metta Yosemite is holding a Call for Entries for a new juried photo competition titled PEACE that is open to all female artists.
Women's inclusion in the peacebuilding processes is essential for long-term success. This has been proven. Equal gender participation contributes to longer, and lasting peace after conflict. For their pieces, photographers should consider:
What is your vision of peace?
How do experience peace in your life? What brings you peace?
How can we bring more peace to the world?
Online + Live Shows
The virtual show will be hosted at MettaGallery.com and feature up to 100 pieces from July 15th, 2022 through the end of the year. The in-person exhibit will accept up to 25 juried pieces and take place at Metta Yosemite in Oakhurst, California, running from July 10, 2022 through September 10th, 2022.
Judges
Wendy Denton, (https:wendydenton.net) a 40-year veteran photographer and former director of the Commission on the Status of Women for Santa Clara County.
Jennifer Moss (https://mossphotoworks.com), photographic artist and former fashion-photographer with work featured in international media including Ms. Magazine and the BBC.
For more information about this juried photo competition, please visit the Event Website.