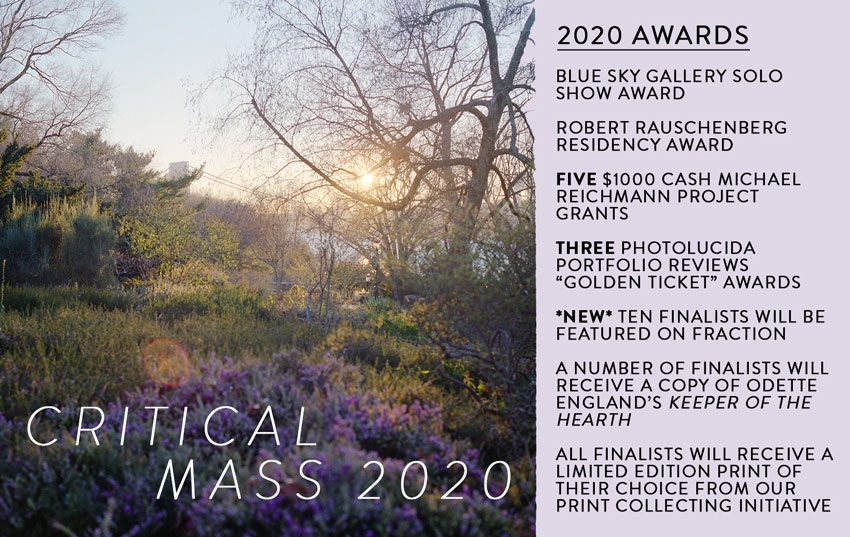 Add to Favorites
Report Listing
Event History
Critical Mass was created in order to help photographers get their work into the conversation. As in-person portfolio reviews are a big expense and time commitment for photographers, we sought to establish an online platform that would make it more efficient and easier for photographers to promote their work to a wide selection of professionals in the field. Critical Mass makes it possible for photographers to get their work in front of 150+ top museum curators, gallerists, editors, publishers, and media producers. For individual photographers, it is typically difficult to make connections with professionals at this level, much less with 150+ of them. With Critical Mass, photographers (from anywhere in the world) submit a 10-image portfolio. Two hundred finalists, who make it through the first pre-screening round have their work reviewed and voted on by the full panel of 200 jurors. This is now the 17th year Critical Mass has been part of Photolucida's programming - a testament to its efficiency!
This year Photolucida is excited to offer a selection of awards which include: A solo show at Blue Sky Gallery during Portland Photo Month, the Rauschenberg Residency Award, Five Michael Reichmann Project Development Grant (1k cash award to fund the development of current or future project), and Three "Golden Ticket" awards for Photolucida's 2021 Portfolio Reviews Event (all registration fees covered). All 200 finalists will receive the print of their choice from Matt Eich or Priya Kambli as part of our Print Collecting Initiative, and 25+ finalists will receive a copy of Odette England's Keeper of the Hearth monograph (Schilt Publishing, 2020). Plus – we have a terrific line-up of 125+ jurors ready to see your work!
Entry Deadline: June 19th
Early Bird Submission Fee (deadline 5/22) – $50
Regular Submission Fee (deadline 6/19) – $60

For more information about this opportunity for photographers, please visit the Event Website!
Copyright Policy:
All photographers submitting their imagery retain the right to their work. Photolucida only uses imagery submitted to Critical Mass to illustrate aspects of Critical Mass programming. Photolucida distributes submitted work (a series of ten images plus artist statement plus print information) to the jurors. The intent of the Critical Mass program is to put the work of submitting photographers in front of jurors with the hope that connections will be made and opportunities will happen. We do not use the imagery in any way except to illustrate marketing information, and we do so with the permission of the photographer. To learn more about this opportunity, please visit the Photolucida website.