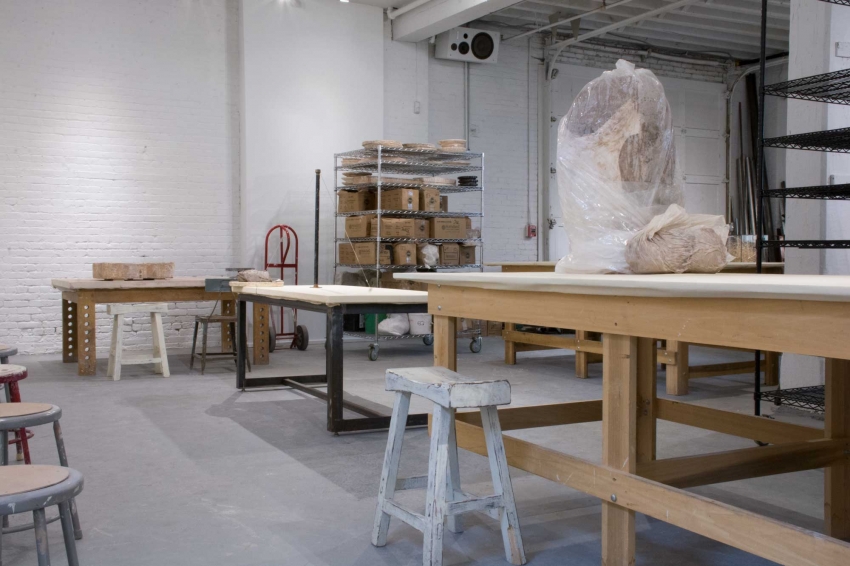 Add to Favorites
Report Listing
Event History
This program was previously focused on ceramics, and only one artist was awarded a residency. In 2020, with so many artists with reduced opportunities, we decided to lower our application fee and broaden the scope and award up to three artists, working in any media. The exhibition will be featured on the PROTO Gallery Artsy page and all social media for PROTO Gallery and PROTO GOMEZ. One to three artists will be selected for the residency and solo exhibitions. Artists working in any media are eligible. There is no cost for the residency itself, however, artists are expected to acquire their own materials and consumables. If available, a larger private studio beyond what is provided can be rented on a monthly basis at a significant discount. Clay and metal can be purchased via Project Studios.
Call to artists for an artist residency.
This residency will take place November 15th, 2020 through January 15th, 2021
About the Residency
The Project Studios Residency is a work-only visual art residency that is focused on the production of new artwork within a well-equipped suite of studios. The artist or artists who are chosen for the residency get a solo exhibition at PROTO GOMEZ Gallery in NYC in Spring of 2021. The exhibit will be featured on the PROTO Gallery Artsy page and all social media for PROTO Gallery and PROTO GOMEZ. Up to 3 artists will be selected for the residency and solo exhibits. Artists working in any media are eligible.
Although the focus of the residency is to produce new artwork, in a mostly self-guided manner, there exists the opportunity of consultation and light instruction regarding safe and effective use of the tools and materials within the studios. Other opportunities for studio visits with independent curators and area gallerists, performed in-person or virtually, including Will Hutnick (Ortega Y Gasset Projects and Wassaic Project) Nicholas Cueva (Underdonk) Jen Hitchings (Studio Associate) and Krista Scenna (Ground Floor Gallery), as well as Enrico Gomez and Nick De Pirro of PROTO GOMEZ will be made available. Studio visits create a dialogue opportunity about the artist's work in the artist residency with individuals working in the emerging arts field.
The shop spaces at Project Studios have been configured for optimal social distancing. Depending on availability, selected artists may get an individual, shared, or common studio. Studio configuration will be developed on a case-by-case basis depending on need and availability, as well as, safety and comfort. The default space provided will be a college-style semi-private studio within one of the large studio suites. Masks are required. Use of the studios is subject to future directives from New Jersey state government and Hoboken city government related to COVID-19.
The studios are located a few blocks from the Hoboken PATH Train station, an easy connection to Lower Manhattan via various subway lines to WTC PATH, or from Brooklyn via the L Train to the 14th Street PATH Station. The studio also has free parking on-site.
Details about Project Studios can be found here: https://tumblr.projectstudiosllc.com/studios
Please note that this residency is work-only. We do not supply housing for artists-in-residence.
Application Fee:
For Applications Received 7/25/2020 to 8/15/2020 $20.00
For Applications Received 8/16/2020 to 9/15/2020 $30.00
Artists awarded the residency will receive:
24-7 Access to the Clay Studio
24-7 Access to the 2nd Floor Gallery and Critique Space
24-7 Access to the Photography Studio
24-7 Access to the Printmaking Studio
Daily access to Welding Shop
Daily access to Wood Shop and Spray Booth
A Studio Space (private or semi-private depending on availability) 24-7 Access
Use of Glazes and Glaze Formulating Chemicals and Glaze Formula Library
Opportunities to Participate in Raku Firings
Free Parking on-site
Studio Visits
Professional Images of Exhibition
A Solo Exhibition at PROTO GOMEZ Gallery, a ground-floor storefront gallery located in the Two-Bridges neighborhood of Manhattan, New York City.
The Studios
Clay Studio:
2000 sq. ft. Studio
Bailey Oval Kiln
Skutt KM1227PK Kiln
Olympic MAS1823HE Kiln
Small Test Kilns
Custom-welded Amaco-Brent Extruder
Walker Pug Mill
60 Gallon Air Compressor
HVLP Spray Gun
2 Brent B Wheels
2 Brent C Wheels
2 Brent CXC Wheels
Randall Kick Wheel
Bailey Slab Roller
Various Tools
Metal Shop:
1000 sq. ft. Studio
Miller GMAW welder
Miller GTAW welder
Portable GTAW FCAW welder
Miller Plasma Cutter
Eagle section bender
60 Gallon Air Compressor
Band Saw
Various power and pneumatic tools
Print Making:
Intaglio Press
Vinyl Cutting Printer
HP DesignJet 500
Mac OS and Windows Computers
11 x 17 Scanner
Various Tools
Woodworking:
500 sq. ft. Space with Walk-in Spraybooth
Sawtrax Panel Saw
Bandsaw
Compound Miter Saw
100 Gallon High-output Air-Compressor
Sandblaster
Paint Sprayers
Various hand and Power Tools
Photography:
650 sq. ft. Photography Studio
8' Foba Camera Stand
Four Speedtron Strobes (one power supply)
Seven Broncolor strobes equipped with Hazylight and Manfrotto boom (three power supplies)
Two Broncolor Lightbox Strobes
Wall-mounted Seamless Backdrops
Varios Stands, Diffusers, etc.
Apple MacBook Pro
For more information about this artist residency opportunity please visit the Event Website.