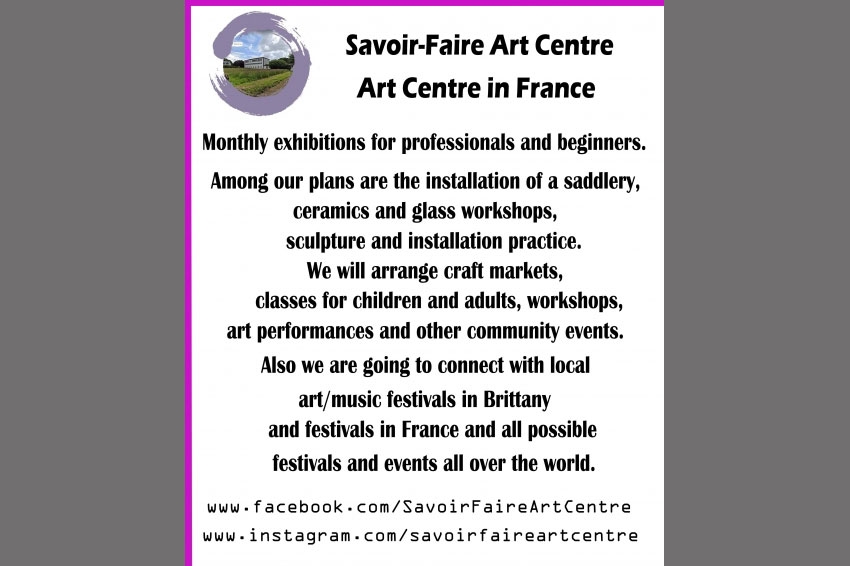 Email Friend
Add to Favorites
Report Listing
Event History
Artists from England, Germany, France, Poland, Russia, Israel, Scotland, Haiti, Hungary are exhibiting with us. Teachers from art schools, colleges and universities that have had their art shows with us, students and artists from our network already are very interested to be part of our new art. We believe that art is one of the most important components of a cultural society, and the ability to "create" will help the world cope with the crisis if we are united, learn and help each other. Our Art Centre and Art school in France will bring our network of artists that exhibited at our gallery in the UK, We invite all creative people, and those that want just to learn and to build a big art community in Britany. We are looking forward to artists coming from all Europe and other visitors from all the world to stay with us, create art and all activities with us. We intend to build a working art retreat for our clients from the UK, a saddlery and crafts workshops such as pottery and sculpture would be ideal. We will arrange craft markets, classes for children and adults, workshops, art performances and other events. Also we are going to connect with local art/music fe
New Art Centre in France that connects existing art gallery in the UK and invites artists from all over the world to be part of our growing community.
 
We are going to open an Art Centre, Art School, Gallery, studios, residencies for artists in Maël-Carhaix, France. https://www.rufinamuraviova.com/savoir-faire-art-centre
Artists from England, Germany, France, Poland, Russia, Israel, Scotland, Haiti, Hungary are exhibiting with us. Teachers from art schools, colleges and universities that have had their art shows with us, students and artists from our network already are very interested to be part of our new art.
 
We believe that art is one of the most important components of a cultural society, and the ability to "create" will help the world cope with the crisis if we are united, learn and help each other. Our Art Centre and Art school in France will bring our network of artists that exhibited at our gallery in the UK, We invite all creative people, and those that want just to learn and to build a big art community in Britany.
 
We are looking forward to artists coming from all Europe and other visitors from all the world to stay with us, create art and all activities with us.
 
We intend to build a working art retreat for our clients from the UK, a saddlery and crafts workshops such as pottery and sculpture would be ideal. We will arrange craft markets, classes for children and adults, workshops, art performances and other events. Also we are going to connect with local art/music festival in Maël-Carhaix, other festivals in France and all possible festivals/ events all over the world.
 
We are going to build an art community in Britany that will welcome all creative people for learn from each other and create a world of solidarity, friendship, ecology and peace