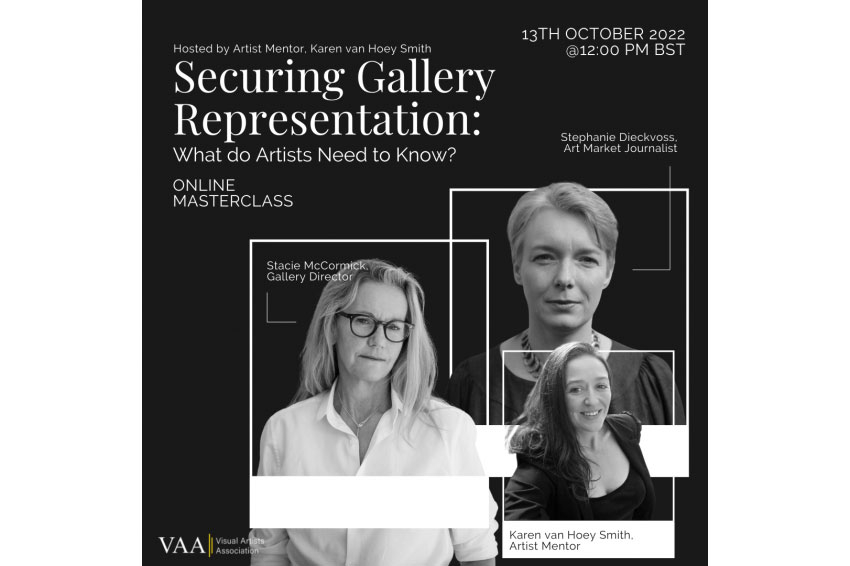 Email Friend
Add to Favorites
Report Listing
How do successful artists get noticed by galleries? What do galleries think of your applications? And how can you impress them?    
Our upcoming Masterclass covers the in's and out's of gallery representation. Held on Zoom and open to artists of all levels. This session with help you navigate the basics of gallery representation, get started on applications, and provide you with expert tips to stand out from the crowd.    
This session will cover:    
Gallery application basics   
Steps to finding the right gallery for you   
Do's & Don'ts of approaching art galleries    
How to prepare a strong portfolio and 'getting gallery ready'  
Insight into gallery negotiations  
Actionable points for you to get started with gallery representation.   
This event will also provide you with the chance to ask Gallerists your burning questions about gallery representation. All attendees will receive a guide, worksheet, and glossary to gallery terms.    
This Masterclass will be joined by gallery experts, including:   
Stacie McCormick, Director of Unit 1 Gallery, Founder of Fair Art Fair, and Multi-Disciplinary Artist. McCormick has provided an exceptional number of opportunities to artists, including exhibitions and residencies, as well as establishing a community of over 300 artists.   
Stephanie Dieckvoss, Associate Lecturer, London Art Market Correspondent, and Journalist. Dieckvoss has over 15 years of experience in commercial art galleries and art fairs. Stephanie also managed the Anish Kapoor Exhibition at the Serpentine Gallery.  
Our host for this event is Karen van Hoey Smith. Karen has experience as an Artist Manager, Auctioneer, and consultant expert. With a successful history as an Art Broker, Karen has extensive experience working with galleries, which makes her the perfect host for this event.  
Free to premium members of the VAA, or £19.99 for non-members. A recording of the event will be available. Spaces limited