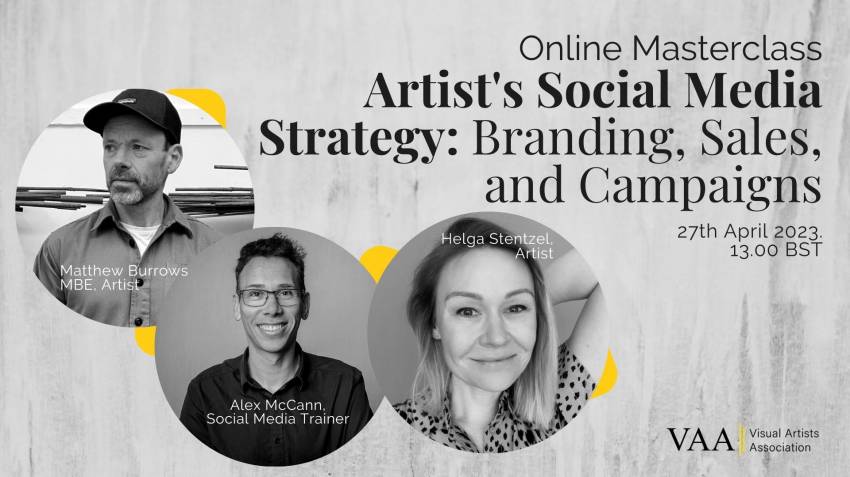 Email Friend
Add to Favorites
Report Listing
So, how can artists make the most of opportunities to connect with new audiences and increase their sales?
Learn what, when, and how to post with the help of social media expert, Alex McCann. In this exclusive online masterclass, we will be covering the best ways to develop flawless branding, build a following and create more sales. By developing a unique and compelling voice, digital storytelling will help you connect with audiences better than before. A thriving artist career is at your fingertips.
In this online session, we will be covering:
• How to generate an authentic following
• Why personal branding is effective
• Insight into social media reels
• Storytelling and communication on social media
• Actionable points for artists to implement immediately
We will be joined by Alex McCann, along with professional artists Helga Stentzel, and Matthew Burrows.
Alex McCann is the owner of Altrincham HQ - a social media management and training company based in Manchester that has worked with 1000s of businesses developing their social media strategy. Altrincham HQ works with businesses across the UK on all aspects of Social Media including LinkedIn, Facebook, Instagram, TikTok, Twitter and blogging for business success.
With an Instagram following of nearly 250K, Helga Stentzel is renowned for her niche of Household Surrealism. A St. Martins alumna, Helga worked as an Art Director before becoming a full-time artist. Helga's work has received media attention across the globe – UK, USA, South America, and Asia; including in the press, on TV and online.
Matthew Burrows MBE (born 1971) is a contemporary British painter and founder of Artist Support Pledge, a global movement in support of artists and makers.
Free to premium members of the VAA, or £19.99 for standard & non-members. A recording of the event will be available. Spaces are limited.