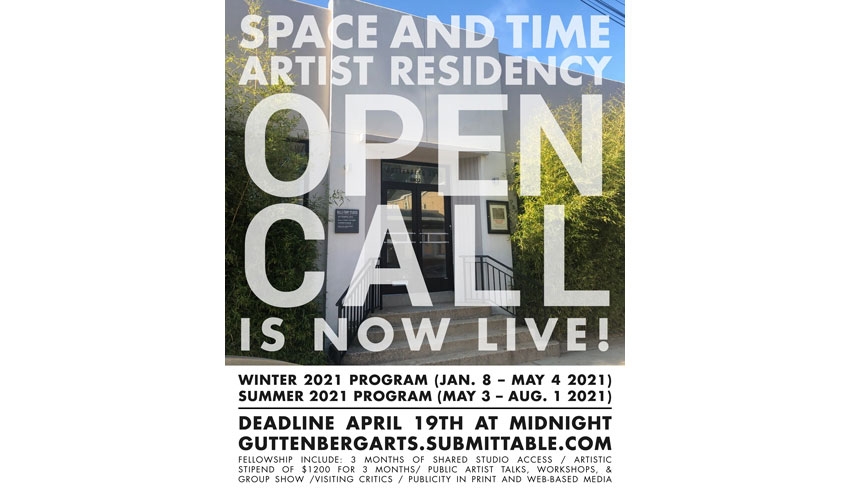 Add to Favorites
Report Listing
Call to artists for the Space and Time Artist Residency at Guttenberg Arts. The residency provides artists with a $1,200.00 USD stipend in order to cover materials, travel, and housing in conjunction with 24/7 shared access to a 4,500 sq. ft. professionally equipped visual arts workspace that includes darkroom, printmaking, and ceramics facilities for three months in Guttenberg, New Jersey (just across the Hudson River).
Artists take part in a group show at the end of the residency. They also get studio visits from accomplished professionals in the art world. Each artist must give a free public artist lecture or workshop towards the end of their three-month residency and spend a minimum of 15 hours a week in the studio. We strongly recommend a site visit to our building if you are unsure of your commute or have questions regarding our facilities. Artists get selected by a blind jury of arts professionals on the merits of their work.  Please note we do not provide housing accommodations. 
Guttenberg Arts is dedicated to promoting the visual arts by providing practicing artists with the time and space to develop their work while engaging with the public.  Guttenberg Arts aims to increase opportunities for supported artists by expanding their community through artistic collaborations and promotion to curators and collectors in the tri-state area.  
WINTER RESIDENCY IS JANUARY 8TH - APRIL 4TH 2021
SUMMER RESIDENCY IS MAY 3RD - AUGUST 1ST 2021
Applications for both Winter & Summer 2021 residencies will be due by Sunday April 19th at 11:59pm.

Applicants will be emailed final notification by Monday December 2nd, 2019.
Rewards Include:
Months of shared studio access at the bulls ferry studio (open 24 hrs, 7 days per week)
Artistic stipend of $400 for 3 months (up to $1,200 total all-inclusive materials and travel)
Public artist talk or workshop, group show and open studio event
Publicity in print and web-based media
Key Holder Opportunity includes everything except stipend
For more information about this opportunity for artists, please visit the Event Website.