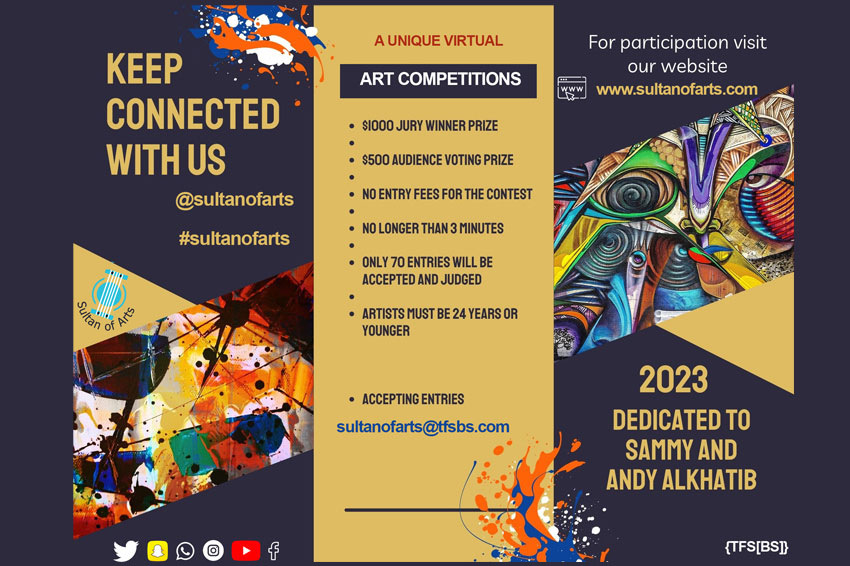 Email Friend
Add to Favorites
Report Listing
Call to Artists
The 'Sultan of Arts' lis launching a series of unique International Virtual Art Competitions in the following categories: Fine Arts, Classical music, Ballet, and Pantomime.
In honor of the spirit of the Founders, we regard inclusion and equal participation to be fundamental values for audition and assessment of the participants' entries, wherever in the world they may reside.
The goal of these competitions is to showcase the beauty of young artists' talent to the world through art and help them earn worldwide recognition.
The Competition is open to all nationalities of 24 years of age and under, free of charge and Cash Prizes are awarded. All auditions and assessment in the four categories will be based on video recordings of the participants.
● Music competition
Performing Aria (Ave Maria) by Caccini. Registration for the 2nd edition will open from 1st December 2022
● Pantomime competition
Create an act, titled: Absolute Music. Registration for the 2nd edition will open 1st January 2023.
● Fine arts competition
An artwork titled: No Music, No Life. Registration for the 2nd edition will open 1st February 2023.
● Ballet competition
Performing an act from Spartacus by Khachaturian, Only the Duet of Spartacus and Phrygia, Act 3 Adagio, with playback music.
 
Registration for the 2nd edition will open 1st March 2023.
The winners will be selected by both the Jury and online Audiences, and will be awarded Cash Prizes in each category.
To close, it will be honour for us to welcome students encouraged by your esteemed Institute to participate at our unique International Virtual Art Competitions for a mutual benefit of young talents, audiences, and institutions across the world.
We genuinely appreciate your attention to our endeavour aimed at helping bright students and look forward to your kind response.
check out our youtube channel for the winners https://www.youtube.com/@sultanofarts
Sincerely yours
Sultan Alkhatib
Founder
For further information about the Competition, please, visit the Event Website.