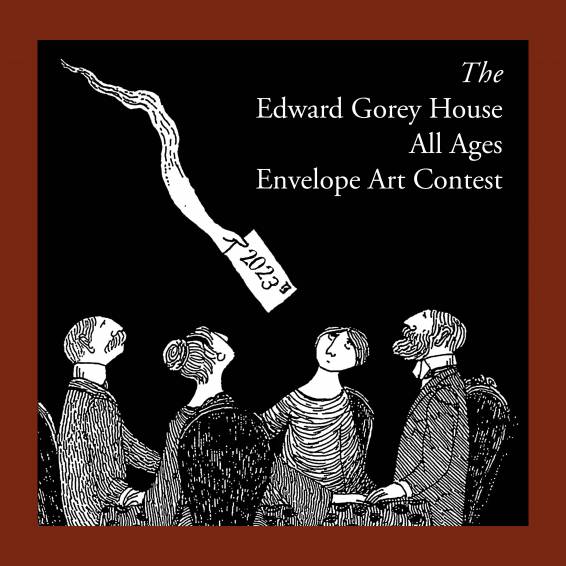 Email Friend
Add to Favorites
Report Listing
Event History
In recognition of Gothic author and illustrator Edward's fondness for the whimsical medium of envelope art, and in appreciation for the vast, passionate community of artists and creatives who enrich his legacy, the House hosts an envelope art contest each year.
The Gorey Catwalk is about to begin, and you're our star designer of Gorey fashion. Your envelope is your runway; your pen, your fabric and needle. The Edward Gorey House is now accepting original envelope artwork from artists of every age for our 2023 Envelope Art Contest. In celebration of this year's exhibit Dressed to Kill: Edward Gorey and the Social Fabric, the theme is Gorey Catwalk, however you choose to interpret it.
To submit your work, download the form on our website, or go to linktr.ee/edwardgoreyhouse and click on "The 2023 All Ages Envelope Art Contest." There is no entry fee. The winning entries, runners-up, and all our personal favorites are on display at the Gorey House for a long time (as well as on our website and Facebook page) and will receive a small prize. Submissions are open until October 16th. Winners will be notified and results will be posted on Tuesday, Oct 31st.
The Semi-Official Rules: Artwork must be on an envelope and be stamped or metered • The contact info in your form should be enclosed in some manner in your envelope • There is no size restriction on your envelope, though very large envelopes are a lot less likely to be displayed if they are bigger than our album • Awards are given in each of these age categories: Under 5; 6 to 10; 11 to 14; 15 to 18; and Over 18 (we reserve the right to fluctuate the ages of the youngest categories based on submissions) •  Note that entries cannot be returned once they are mailed to the House • The postmark deadline is Monday, Oct 16th, 2023 • Note that entries from overseas can take a very long time—we frequently receive overseas submissions long after the contest is over. We recommend overseas entries get into the mail by the beginning of October so that they arrive by the 16th • Winners will be contacted via email and displayed both at our website and on social media.