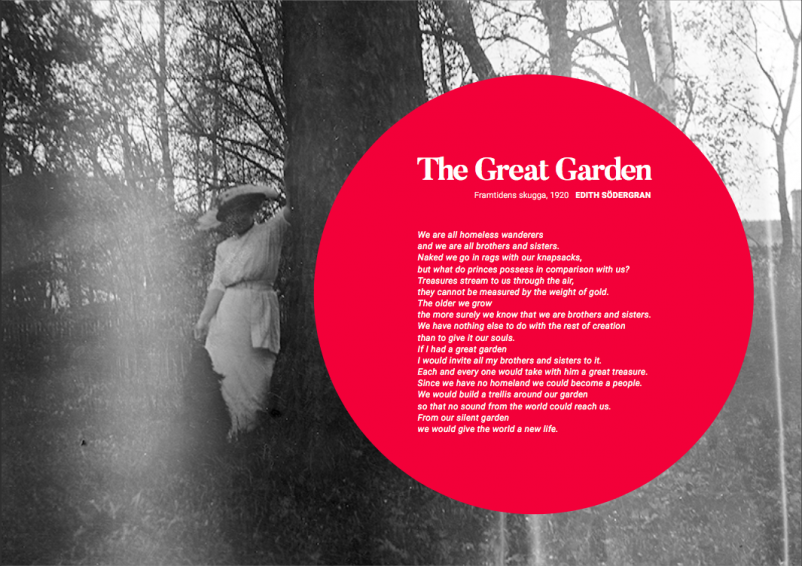 Documents

1
Email Friend
Add to Favorites
Report Listing
Event History
Be sure to download the accompanying PDF found above in DOCUMENTS. The PDF includes additional information as well as contact information for the organizers of the call.
What Makes this event different?
In this exhibition project we place the work from a past century's artist in dialogue with the work of emerging contemporary artists. This is to reveal the influence of an early 20th century artist to today's generation and to show how her work remains relevant over the years. Through the exhibition we will experience the life and the position of a female artist over a hundred years ago, observe that worldview in present times and celebrate her work through a curated exhibition of interpretations by contemporary artists in various artistic fields.
Copyright Policy
"The Great Garden" translated by David McDuff: Complete Poems, Edith Södergran (Bloodaxe books Ltd 1984).
Image Usage Rights
Edith Södergran photographed by her mother Helena Södergran 1910-1920.
The Great Garden -Edith Södergran 1920
"We are all homeless wanderers
and we are all brothers and sisters.
Naked we go in rags with our knapsacks,
but what do princes possess in comparison with us?
Treasures stream to us through the air,
they cannot be measured by the weight of gold.
The older we grow
the more surely we know that we are brothers and sisters.
We have nothing else to do with the rest of creation
than to give it our souls.
If I had a great garden
I would invite all my brothers and sisters to it.
Each and every one would take with him a great treasure.
Since we have no homeland we could become a people.
We would build a trellis around our garden
so that no sound from the world could reach us.
From our silent garden
we would give the world a new life."
PROJECT DESCRIPTION
Edith Södergran (1892-1923) has a strong cultural and historical position in the history of Finnish and Finnish-Swedish art, poetry, and literature. Södergran's valuable poems were ahead of their time then and are prescient in meaning today. During her lifetime she received very little recognition for her work.
This international project aims to bring artists together to promote and celebrate collaboration between cultural workers in the spirit of Södergran's words. We invite artists working in a variety of mediums in different genres to interpret Edith Södergran's stirring poem "The Great Garden". 
Our aim is to reveal Södergran's art and celebrate it through a curated exhibition of interpretations by contemporary artists in various artistic fields. The identity and work of each artist is presented as their own creation, but also in harmony and unity with the works of others which together will reawaken "The Great Garden". Through the exhibition we will experience the life and position of a female artist during Södergran's lifetime and observe that worldview in present times.
ARTIST CALL 
We are interested in unexpected ways of revealing Södergran's presence through artistic responses.  The Great Garden will be implemented as a group exhibition in different locations during 2023-2024. Exhibition space for the project has been applied for at HAM Gallery of the Helsinki Art Museum.
Based on the applications, we will curate a unified entity of the art works.
APPLICATION GUIDELINES FOR ARTISTS
You are an experienced and recognised artist and/or have graduated from an institution of arts. 
The written report of the work must contain information about the sustainability of the production of the work. Environmental damage must be minimized in the production of the work.
The artist commits to submit their work and related written materials by a pre-agreed date. Shipping costs and insurance are the responsibility of the artist. The organizer of the exhibition is responsible for the insurance during the exhibition. After the exhibition, the artist is responsible for the return of their work.
EDITH SÖDERGRAN (4 April 1892 - 24 June 1923) 
Edith Irene Södergran was a Swedish-speaking Finnish poet. She is the most internationally known Finnish poet, whose poems have been translated into more than 40 languages. Her poetry is known for its visual and picturesque language, free rhymes, and passionate intellectual style.
Södergran was one of the first Finnish modern poets and the most important representative of Finnish-Swedish modernism. Her production was characterized by vision and the futuristic and symbolic currents of her era. Södergran published her debut book Dikter, in 1916. At the time she was already suffering from tuberculosis, which she died of seven years later at the age of 31. Despite her illness, Södergran wrote four poetry books and one collection of aphorisms.
Södergran's poems confused many of her contemporaries. She has been considered a genius who lived a lonely and isolated life. Södergran was unconventional and shook the image and perception of the female poet of her time.