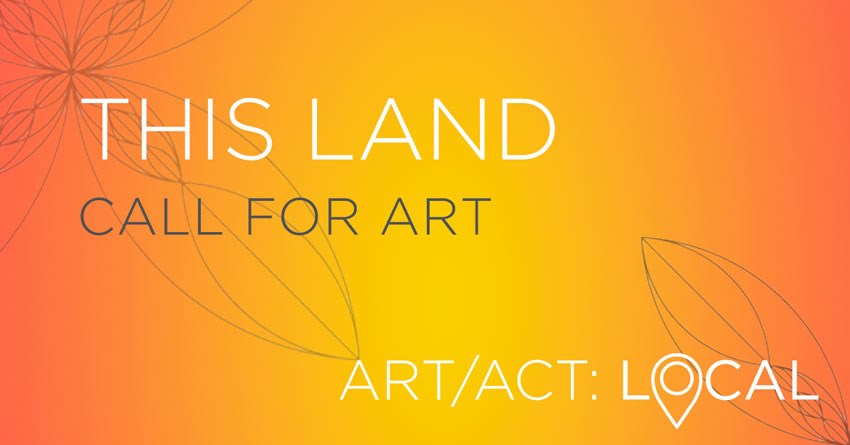 Email Friend
Add to Favorites
Report Listing
Event History
Art/Act: Local is produced by the David Brower Center and is located in the heart of downtown Berkeley, California in the city's first platinum LEED-certified building. Our stylish, modern street-level gallery embodies the art of activism, open to the public 5 days a week. We're just one block away from BART, our transit line connecting us directly with San Francisco, Oakland, and farther flung places in the Bay Area. The event has changed this year to include all of Northern California, as well as more diverse audiences and outsider perspectives, as we outreach to underrepresented communities not often seen on gallery walls or platforms.
What Makes this event different?
Featuring 4 selected artists with up to 10 artworks each, our 2022 theme "This Land" explores our relationship to land that holds us and life on this planet, along with the imperative to protect it. Among soaring concrete columns and spacious walls, hundreds of viewers yearly take in works that inspire and activate more responsible relationships with the outdoors. Our 178-seat theatre is designed to connect artists with much larger audiences both physically and virtually in the safest building in the Bay, with 100% fresh exchange of outdoor air every hour. For nearly a decade, this program has been building meaningful relationships with local emerging and mid-career Bay Area artists. The David Brower Center is unique in that we exhibit environmental art and advocate for a more inclusive and equitable environmental movement.
Copyright Policy
Artists maintain copyright ownership, and must be able to give the David Brower Center permission to reproduce images of their artworks and documentation of related events as part of the exhibition archive, virtual gallery, and promotion.
Image Usage Rights
Images submitted may be posted on our social media with credit to artists and tagged where possible, images of selected artists and their artworks may be posted on our website and virtual gallery, and to promote and document community and/or virtual events related to the exhibit.
To apply in Spanish: https://bit.ly/estatierra 
If another language is required, email contact@browercenter.org.
"Art/Act: Local—This Land" is the David Brower Center's annual juried exhibition of works by 4 emerging artists. Jurors select based on artists' submissions and relation to this year's theme: what does it mean to be connected to the land that holds us and life on this planet—along with the imperative to protect it?

__OBJECTIVE__
To nurture meaningful relationships with selected Northern California artists, we aim to foster their visibility via marketing, platform opportunities, and professional assets (photography, video, etc).

__DETAILS__ 
Four selected artists will be offered a $1000 honorarium towards the creation of new work, framing or mounting existing work, or any other production expenses towards the exhibition. Curators work with artists to develop the final exhibition.
·  Artists must live in Northern California.
.  Free to enter. No submission fee. 
.  Due to space limits, artwork can be wall-mounted objects, video (≤3:00), or temporary performances or events.
.  Up to 10 entries can be considered.
.  Images of art must be uploaded here with a Google account, or other arrangements made upon request.
.  All media will be considered if objects displayed are wall-mounted throughout the exhibit. 
.  All works must be available for the final exhibition.

__DATES & DEADLINES__ 
.  Submissions due: January 27, 2022 at 5:00 pm PST.
.  Notifications sent: February 28, 2022
.  Deliver work on: Monday, June 6, 2022 between 9:30 am - 12:30 pm.
.  Pick up art: Friday, Sept. 16, 2022 between 9:30 am - 12:30 pm. 

__WHY "THIS LAND"? __BY JOSÉ GONZALEZ
Land connects us—to each other, to time, to place, and most importantly to reminders of relationship and values. More than a physical place, land holds layers of our being, from the ecological to the sacred. 
A land supported in its regenerative cycles holds thriving biodiversity. A land where humans play a responsible role of reciprocity holds sustainable thrivability. A land where we are in relationship to human and non-human kin holds the past and the future of possibility and community.
A land that is valued beyond its utility holds spiritual strength, and more. 
Land—whether in vast stretches of "protected areas" or small pockets of nature in urban landscapes—invites us to reconnect, to rebalance, to remember. It invites us to create and be inspired. It can invite us into spaces of intimate appreciation, as much as places of vast awe and wonder.
These spaces and places are where we reinforce our intrinsic connections to the rest of life on our planet. It restores us, calms us, entertains us, inspires us—it grounds us.
All of this is crucial to tackling our systemic environmental challenges, especially climate change. Help motivate people to action with your ability to create, envision, challenge, and unite others via the power of art.
It is with this intention that we are calling artists for 2020 Art/Act: Local—This Land.
__FINAL EXHIBITION__
June 9 - Sept. 15, 2022
Hazel Wolf Gallery, David Brower Center, 2150 Allston Way, Berkeley CA 94704
For more info, visit https://bit.ly/thisland2022
For additional questions with your submission, email contact@browercenter.org