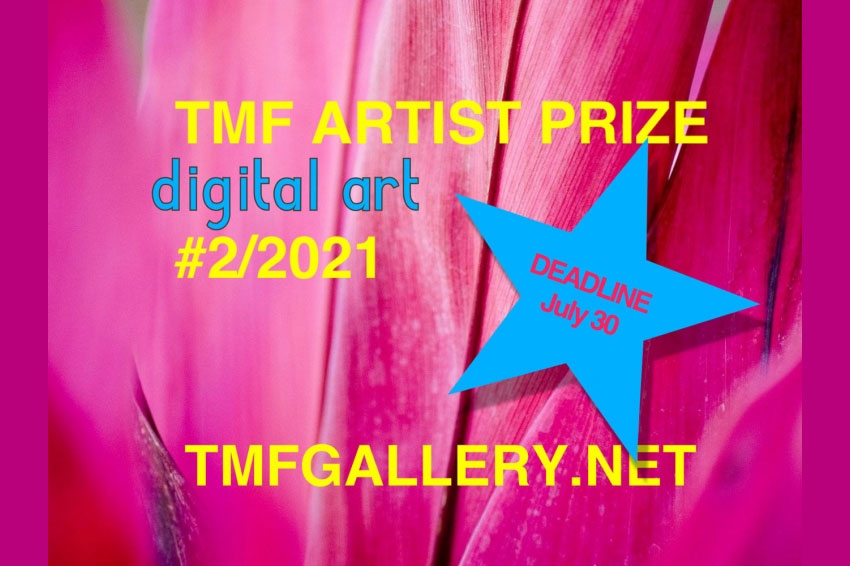 Email Friend
Add to Favorites
Report Listing
What Makes this event different?
TMF GALLERY offers up-and-coming mixed digital and mixed media prizes that will take them further. By participating, you'll showcase yourself and also be considered for future exhibitions and multimedia display shows. Especially for VIDEO ARTISTS: These times, there are hardly any opportunities to position as an emerging video artist and become discoverable for a broad audience. Video art is mostly not considered in art competitions. We are about to change that!
Copyright Policy
All works submitted to us and published through us are the property of the artist and the artist retains the sole copyright and all applicable rights to said images. For further information read Terms and Conditions on our website.
TMF GALLERY ARTIST CALLS
are open to all emerging
VIDEO ARTISTS
PHOTOGRAPHERS
MIXED MEDIA ARTISTS & PAINTERS
WIN AN EXHIBITION at Art International - Contemporary Art Fair, Zurich 2021
TMF GALLERY is a Swiss online gallery with international exhibition and display show venues. The gallery is newly founded and emerged from the need to provide an international presentation especially for digital artists. We offer emerging video artists, mixed media artists and photographers an online and also physical presentation of their art to enable national and international exposure.
For more information please visit the Event Website.
---
​We offer our winners marketing activities, multimedia display shows, online presentations, ongoing social media promotion, display shows at events as well as real press coverage and many backlinks.
IMPORTANT NOTE
PHOTOGRAPHERS & PAINTERS - Your pictures will not be physically exhibited but published exclusively via digital media and up to large display screens. This means for painters and photographers that we need very good files of your works. We do not exhibit prints or physical works.
Artists from any country and any professional and artistic background have the chance to become visible and gain an audience.  
ELIGIBILITY
​Open calls to all video artists, photographers and visual artists who are at least 18 years (by the time of entry). The 'TMF GALLERY Competition' is open by submitting up to 5 original works of art created within the past 3 years.
ENTRY FEE
1-3 Works euro 40
4-5 Works euro 50