The deadline to participate in this event has passed. Find other call for entries and opportunities by browsing this site. Try search for other events in the
Art
»
ARTIST RESIDENCIES
category.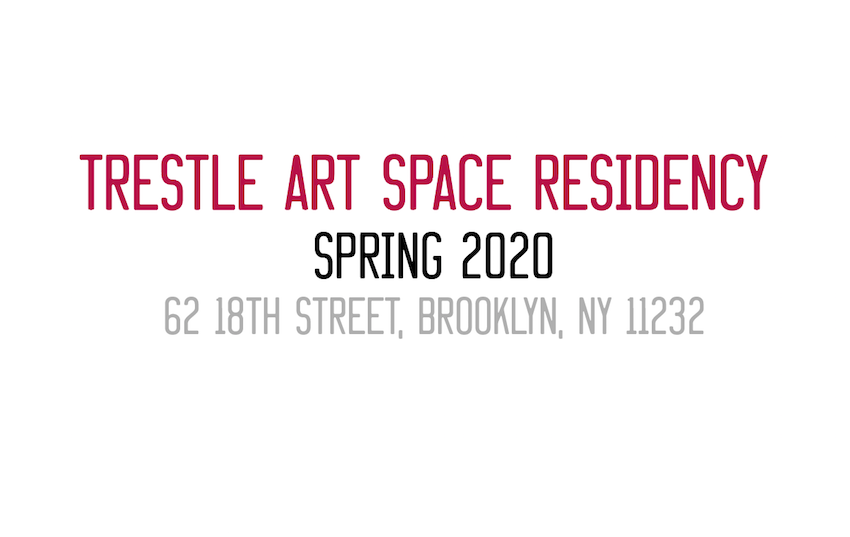 Add to Favorites
Report Listing
This is a call to artists for The Residency Program at Trestle Art Space.
This is a six-month, advisor-led studio residency that is designed to support emerging artists who seek critical feedback, professional development, and community while they find a foothold in the New York art world. Centered around professional and personal growth, the program sessions and advisor mentorship provide practical tools to help guide residents towards a successful career in the arts. Offering exhibitions, open studio, and speaking opportunities, the program is meant to increase the visibility and profile of residents by providing a platform to present their work to the public.

Professional Development:
Artist Essentials. Residents work closely with their advisor on crafting their CV, artist statement, bio, and website to best represent their work in a clear and concise way.
Mastering the application. Guidance will be offered to navigate the world of art submissions including feedback on applications to open calls, residencies, and other opportunities.
Artwork Documentation. Artists will learn the skills of properly photographing and editing images of their artwork through participation in a workshop.

Critical Feedback:
Group Critiques. Residents receive a range of feedback on their practice from three advisor-led critiques. Additionally,Trestle Gallery's Visiting Artist Residents host twice-monthly Open Critiques that residents are encouraged to attend.
One on One Feedback. Residents will also have the opportunity to seek individual feedback about their work during scheduled office hours with Trestle Gallery's Visiting Artist Residents.

Exhibition Opportunities:
Exhibition at Trestle Gallery. Every year we partner with Trestle Gallery, located at our Sunset Park location, for a studio member exhibition. This year's exhibition will take place in May.
Small Group & Solo Exhibitions. Trestle Art Space is also home to two project spaces available for small exhibitions, including solo shows. Residents are welcome to submit their work for consideration at any time during the 6-month program.
Residency Exhibition. All residents get the opportunity to participate in a group exhibition held during Gowanus Open Studios, an event that brings 100s of people through our space.
Curatorial Projects. Residents will have opportunities to curate pop up exhibitions at our Greenwood location.

Community & Networking:
Open Studio Events. Residents will have the opportunity to open their space for local artists, curators, and collectors to peek into their practice during local open studio events.
Artist Talks. Residents and studio members are invited to share their work, skills, and knowledge with the public in an open and supportive environment. Artists are free to discuss a range of topics, from their practice and projects to critical discourse.

Financial Information:
The program fee includes a private studio and all programming for the 6-month residency. The fee is $3,000 plus a security deposit of $200 (returned at the completion of the program) and a materials fee of $35. Residents can pay $500/month or in a lump sum at the start of the program. A $500 discount is offered to participants who pay in advance for the 6 months. For residents choosing the monthly option, an initial payment of first month/last month/damage deposit/materials fee ($1,235) is required upon signing of the contract. For residents paying in advance, a one-time payment of $2,735 is required upon signing of contract. **Please note we do not provide housing or visa sponsorship.
Program Dates:
Info Sessions & Tours: February 13, 15, & 19
Application Deadline: March 1, 2020
Notification Date: March 6, 2020
Contract Deadline: March 16, 2020
Residency Duration: April 1, 2020 - September 30, 2020
For more information please visit the Event Website or email studios@trestleartspace.org.