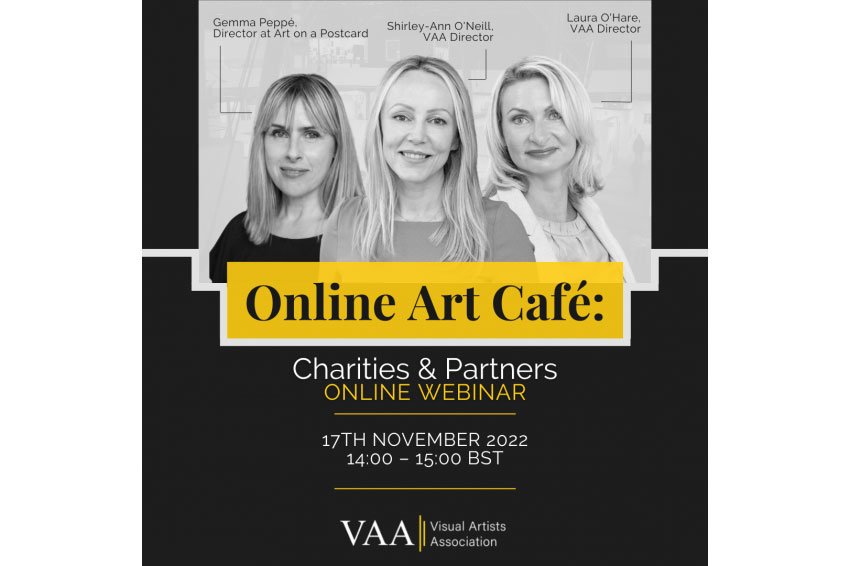 Email Friend
Add to Favorites
Report Listing
How can you start collaborating with charities? How will this help you generate your own visibility and exposure? Our upcoming free Art Cafe will give you the tools to start partnerships with charities and other organisations.
This session is a friendly introduction to the value of partnering with charitable organisations. Held on Zoom, and open to artists of all levels, or guest experts will provide you with the guidance you need.
This session will cover:
• How to use charities to connect with high-profile buyers
• Common charity business models
• What you can gain from charity partnerships
• How to leverage your network
We will be joined by: Gemma Peppé, Director at Art on a Postcard. Peppé founded Art on a Postcard in 2015 to fundraise for The Hepatitis C Trust. Gemma joined the Trust in 2006 following making the documentary Louie, me and Hepatitis C. Former CEO Charles Gore bought Gemma on board to fundraise within the music industry and before running Art on a Postcard Gemma ran the extremely successful campaign Get Tested and worked closely with Boy George on a photographic campaign whereby, he dressed current celebrities up as 1980s icons. The campaign culminated in a gig with Boy George duetting with major stars as well as Adam Ant for the first and only time ever.
Art on a Postcard has raised around million pounds and receives 3000 artworks a year. A huge range of artists have taken part from Marina Abramaviç, Harland Miller, Damien Hirst and Gilbert and George at the top end to emerging talent such as Antiona Showering, Victoria Cantons and Ryan Mosely. All the auctions are curated and have also included many top photographers such as Miles Aldridge and Larry Clark. 2022 will see the opening of The AOP Gallery.
Our host for this event is Karen van Hoey Smith. Karen has experience as an Artist Manager, Auctioneer, and consultant expert. With a successful history as an Art Broker, Karen has extensive experience working with galleries, which makes her the perfect host for this event.