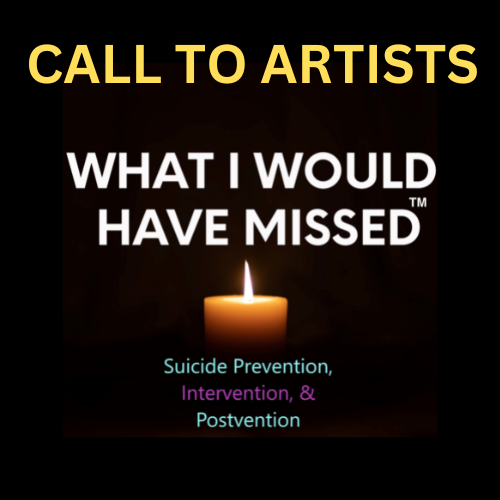 Print
Email Friend
Add to Favorites
Report Listing
Event History
This is the 1st annual What I Would Have Missed exhibit. Annually, a call to artists will occur.
Copyright Policy
What I Would Have Missed is trademarked and effort is being made to have it registered as such. The works of art selected for the exhibit will become the ownership of What I Would Have Missed with full reproduction rights with the understanding the artists will receive full recognition in perpetuity and all revenue derived from sales will be used to further the mission of What I Would Have Missed.
Image Usage Rights
What I Would Have Missed will have full reproduction rights, i.e. cards, posters, calendars, etc. with the commitment from What I Would Have Missed to always clearly acknowledge the artists in perpetuity. Additionally, all funds derived from the sale of reproduced works will be used to further the mission of What I Would Have Missed.
Call for Entries for Artists
The aim of What I Would Have Missed is to build an international movement to help prevent suicide and promote mental wellness by cultivating community, connections, collaborations, and courageous conversations. This exhibit hosted by What I Would Have Missed will uniquely position suicide attempt and ideation survivors to create and share works they would have missed creating had they died by suicide. Those who see the exhibit will also be brought to understand it is a moment he/she/they would have missed as well, had the artist died by suicide. Exhibit attendees will participate in the creation of a community art piece that celebrates life. The exhibit is partnering with NAMI, National Alliance on Mental Illness to increase awareness and education about mental health services.
Up to 30 selected images will be displayed in, at minimum, 5 exhibitions throughout the United States beginning in St Petersburg, Florida at the Warehouse ArtsXchange in September 2023. In addition to the images being viewed, the art and the overall exhibit will serve as a catalyst to engage in conversations and education regarding suicide prevention and mental wellness. Original selected works will also be reproduced in order to increase awareness about the mission of What I Would Have Missed as well as serve as a revenue generating opportunity.  The works will also be displayed digitally on the What I Would Have MIssed website and social media. Artists will always receive recognition of their works and be paid $500 for their piece of art.
For more information about this opportunity for artists please visit the Event Website.