Find photo contests and other photography related opportunities such as photography competitions and juried exhibitions in the C4E fully searchable directory. Use the categories to fine tune your search results. Sign up as a photographer to receive submission tips and our newsletter.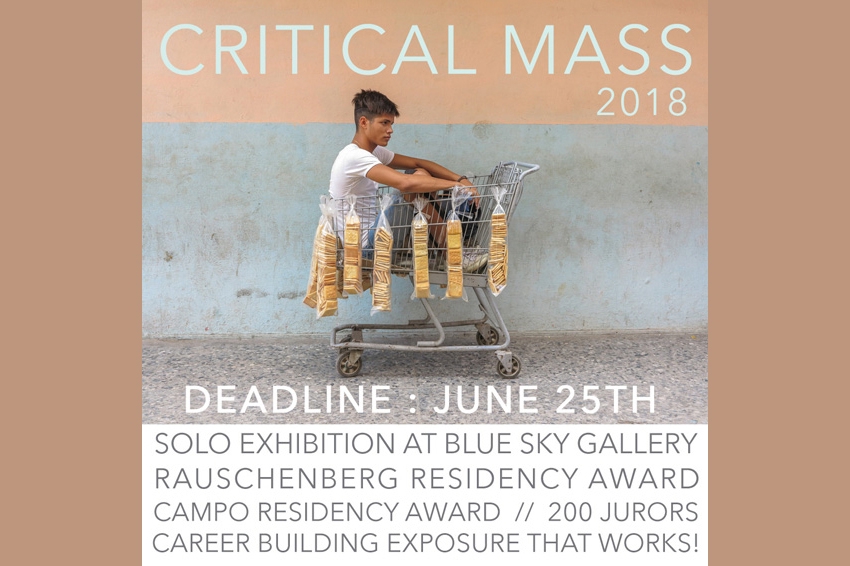 Critical Mass 2018
Add to Favorites
Critical Mass will put your images in front of 200+ international museum directors, curators, gallerists and publishers. More than a competition, this is a multi-layered program about unparalleled exposure.
Puffins Galore
Join me, Christopher Dodds (Canon Northern Explorer of Light) for an extraordinary opportunity to photograph Atlantic Puffins and Razorbills. Includes Exclusive lodging in a picturesque Lighthouse and gourmet meals
Juried exhibitions
Fort Collins, Colorado United States
Buinho - Artistic Residency in Portugal
Add to Favorites
Call to artists for residency in Portugal offering private studios and accommodation in 2 different locations in historic town. In addition to traditional workshops, Buinho also offers the use of the fablab to its residents.
Still Life: Elevating the Mundane
Whether they are found or created, still life images can be a quiet and powerful form of personal expression. A compelling still life makes the viewer pause and consider what otherwise might have been interpreted as mundane.
forgotten
Call to photographers working at all levels to submit work reflecting the theme "forgotten" to A Smith Gallery. Blue Mitchell, independent publisher, curator, educator and fine art photographer, is the juror for "forgotten".
THEME | FOUND OBJECTS
A "found object" is a physical artifact that can be discovered by chance and assigned esthetic value in an artist's hand. Found art objects may include a wide array of items that were either forgotten, discarded, dropped...
unique: alternative processes 2018
Art Call for photographers working in all alternative processes. Submit work that reflects the theme "unique: alternative processes 2018" to A Smith Gallery. Diana Bloomfield, fine art photographer and educator, is the juror.